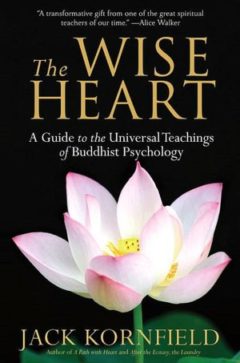 A Guide to the Universal Teachings of Buddhist Psychology
by Jack Kornfield
Bantam Books, 2008, $33.00
Jack Kornfield, a much-loved and respected author, psychologist, and teacher, examines the heart of Buddhist psychology and what it is to be a fully awake and aware human being. Kornfield graduated from Dartmouth with a degree in Asian studies, and then trained as a Buddhist monk in Thailand, Burma, and India. He is co-founder of the Insight Meditation Society in Barre, Massachusetts, and of the Spirit Rock Center in Woodacre, California. He holds a Ph.D. in clinical psychology and has written nine other books, including The Art of Forgiveness and A Path with Heart.
Kornfield explains that Buddhists were actually the first cognitive-behavioral therapists, with a psychology that moves beyond the Western paradigm in choosing to focus on what brings health and happiness, rather than focusing on pathology. Its practices teach that "coming to rest in the present, wherever we are, becomes the seat of awakening" and leads to a state of being in which one is "truly alive, able to care, to work, to love, to enter life fully, with an open heart." His comprehensive, engaging, and compassionate work illuminates the message of Buddhist psychology to its practitioners: "You are free." The fulfillment of Buddhist psychology is the "wise heart," which is consciousness knowing itself. It is the beauty one has been seeking and the joy, peace, and equanimity that are one's original nature, with the power to transform all it touches.