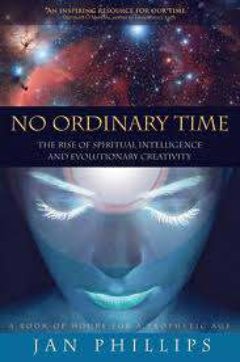 No Ordinary Time: The Rise of Spiritual Intelligence and Evolutionary Creativity: A Book of Hours for a Prophetic Age
By Jan Phillips
It's good to have a book that we can carry with us into the darker, more reflective seasons. This is one such book, and its author, Jan Phillips, is a worthy companion for our inner journey. Based on the Book of Hours, recited by monastics throughout the ages, Phillips takes the ordinary threads of daily life and weaves them into a brilliant tapestry that lets us see both the larger picture and our place in it. Calling us the "myth-makers" of our age and the "prophets and writers of new sacred texts," she used the ancient form to declare that we must untether ourselves from the past and give ourselves permission to think our own thoughts, feel deeply, and discover what it is that we love so much that it calls us to action. We are, she says, called to use the passion we unearth from within ourselves to create a future that has not yet been imagined.
Growing up spiritually is not an option for us, she declares, but an urgent necessity. We must become "spiritually intelligent" people, capable of constructing our own spiritual life from our lived experience and consciously made commitments. In her poem, "Christmas Day Thoughts from a Brooding Post-Christian," Phillips celebrates Jesus as one who did exactly this, and paid the price for it:
That's the miracle of Jesus if there is one
He thought his own thoughts
when no one else did.
Dangerous. But he never stopped.
That's what I celebrate today.
His original thinking.
O Holy night.
Phillips, who spent two years in the novitiate preparing for life as a Roman catholic nun, is an author, artist, workshop director, social activist, and co-founder and executive director of the Livingkindness Foundation, a global network of creative grassroots philanthropists. she is also the co-founder of syracuse cultural Workers, publishers of artwork for social justice and global consciousness. Her book is both a call to action and a love song to the source that holds everything, including each of us, in the palm of Its great and gentle hand.
---
Similar articles with the same tag: