Music Review: George Fest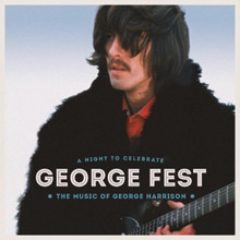 George Fest
A Night to Celebrate the Music of George Harrison
Various artists
BMG RECORDED MUSIC/HOT RECORDS
On September 28, 2014, singer/multi-instrumentalist Dhani Harrison united several of his musical heroes at Los Angeles' Fonda Theatre to pay tribute to his father, the late George Harrison. The eclectic assembly of musicians who turned up for the event included Ben Harper, The Cold War Kids, Heart's Ann Wilson and members of The Flaming Lips, Weezer, Jane's Addiction, The Beach Boys, The Killers, and The Strokes. The resulting album and DVD will be released on February 26th of this year, the day after Harrison's birthday.
Hearing Dhani himself perform George Harrison's songs is a memorable experience. He not only bears a strong visual resemblance to his father, but also sounds eerily like him when singing tunes like "Let It Down," "Ballad of Sir Frankie Crisp," and "Savoy Truffle." Adding to George Fest's familial feel is the presence of Norah Jones, daughter of Harrison's close friend and mentor Ravi Shankar. Jones' presentation of "Something" is a standout, accentuating the innate beauty of one of Harrison's finest works.
While George Fest has its share of light moments, not the least of which are performances by "Weird Al" Yankovic ("What Is Life") and Conan O'Brien ("Old Brown Shoe"), due respect is also paid to George Harrison's more serious, devotional side. The Cult's Ian Astbury pulls off a heartfelt performance of "Be Here Now," and in the hands of Black Rebel Motorcycle Club, the underacknowledged song "The Art of Dying" takes on a churning, murky feel. Brian Wilson's rendition of "My Sweet Lord," while somewhat strained, is nevertheless a touching offering from a man who has long shared Harrison's desire to impart a sense of the sacred through music. In conjunction with an all-star encore of "All Things Must Pass"—with Dhani once again sounding much like dear old Dad on the song's first verse—these offerings serve as loving reminders of the role that Harrison played in bringing spirituality to popular music and to Western culture at large.