Book Giveaway
Quest for Eternal Sunshine:
A Holocaust Survivor's Journey from Darkness to Light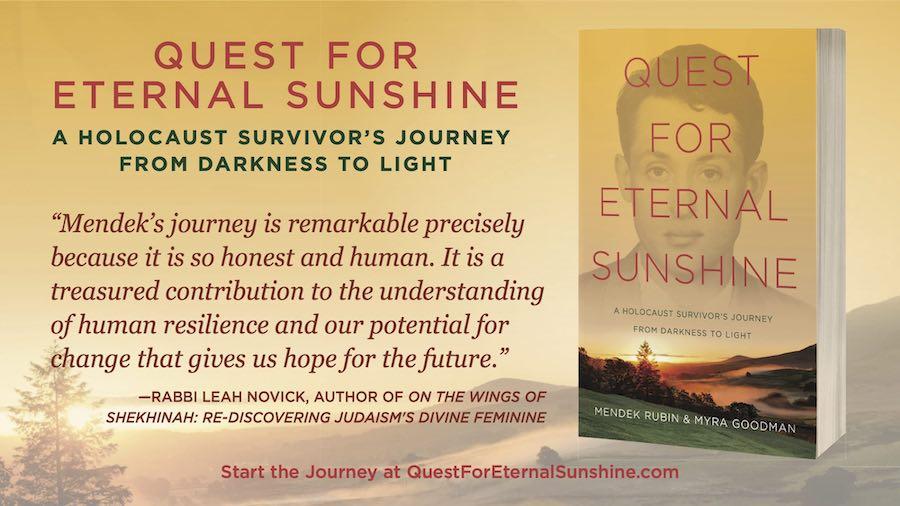 "A moving and inspiring story of courageous change from enormous suffering to a wisdom that transforms heart and mind! We can all learn from this."

—Jack Kornfield, author of A Path with Heart
"Mendek's unique and beautifully told story is one of the most inspiring healing journeys I've ever read. I've savored this gem of a book many times, and each time, I am amazed and filled with awe."
—Laura Davis, author of The Courage to Heal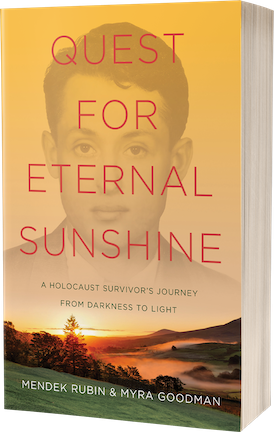 The award-winning book, Quest for Eternal Sunshine—A Holocaust Survivor's Journey from Darkness to Light, chronicles the triumphant, true story of Mendek Rubin—a brilliant inventor who applied his mechanical genius to his own psyche, developing innovative techniques to free himself from vast emotional suffering. Mendek successfully overcame the trauma of the Holocaust and decades of unrelenting depression to live a life of deep peace and boundless joy.
After Mendek died in 2012, his daughter, Myra Goodman, found an unfinished manuscript in which he revealed the intimate details of his remarkable healing journey. Quest for Eternal Sunshine—the extraordinary result of a posthumous father-daughter collaboration―takes readers on Mendek's remarkable odyssey, both in the real world and inside his mind and heart. From his youth as a Hassidic Jew in Poland to his adulthood as a top-level member in a New Age spiritual community in New York to his key role helping to launch an organic farming revolution in California, Mendek candidly shares the intimate details of his remarkable life and quest for healing and connection.
Filled with eye-opening revelations and effective self-healing techniques, Quest for Eternal Sunshine offers profound wisdom and much-needed hope and comfort during these challenging times.