Maiden, Mother, or Crone, there's a goddess circle for you.
The circle is an ancient and universal symbol of unity, sacredness, wholeness, infinity, the goddess, female power, and the sun. A Goddess circle is often a small sisterhood of intimate support accompanied by a moon-cycle ceremony. It may also be a full-fledged religion that recognizes the sacred unity of all things. All goddess circles cherish nature as exemplified in the symbol of the Great Mother.
The Goddess Immanent

Immanence is a theory of divine presence. It proposes that the spiritual world permeates the material world. In many Goddess circles, the goal is to awaken to the awareness that woman is the Goddess immanent, incarnate. In embodying and celebrating our sacredness, we find sexual and psychological healing, power, and purpose.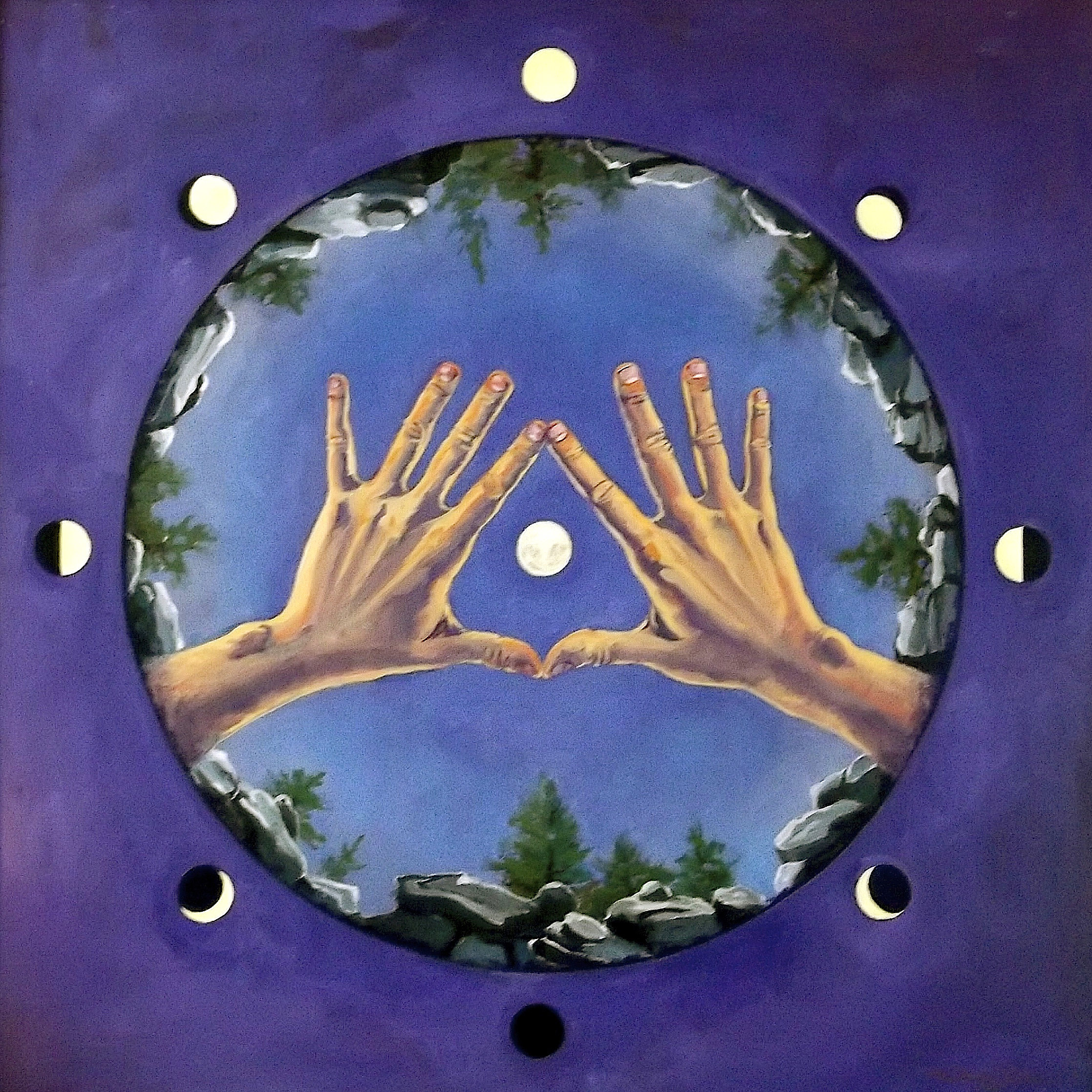 [Read: "Women's Circles: A Sacred Space to Celebrate the Divine Feminine."]
Starhawk, one of the founders of Reclaiming, a modern witchcraft tradition that combines the Goddess movement with feminism and political activism, describes immanence in her classic book, The Spiral Dance: A Rebirth of the Ancient Religions of the Great Goddess:
"The Goddess falls in love with Herself, drawing forth her own emanation, which takes on a life of its own. Love of self for self is the creative force of the universe. Desire is the primal energy, and that energy is erotic: the attraction of lover to beloved, of planet to star, the lust of electron for proton. Love is the glue that holds the world together."
Buffalo Goddess Grapples With European Roots

Rea Beaubien is a ceremonialist on the Front Range of the Rocky Mountains. Initiated twenty years ago as a road woman in the Native American Church, she has paid her dues. She has held medicine ceremonies as far away as Florida, Mexico, and England and was often invited to sing at Sun Dances and Lakota healing rituals. As she began to move away from partnering with her medicine man husband into her own leadership, she was inspired by the teachings of White Buffalo Calf Woman, the giver of the sacred pipe to the Lakota people. Her first women's circle was called Buffalo Goddess and she taught traditional songs and prayers.
Beaubien also mentions the difficulty of surfing the waves of social change and opinion. Despite some Ojibwe genes, she is undeniably white, with blond hair and blue eyes. "What was once cultural appreciation is now seen as cultural appropriation," she says sadly.
[Read: "Black Women's Healing Circles."]
This has led her to meditate on her European ancestral roots. In turn, her Goddess circles have begun to reflect more of those ancient earth-based religions. Covid brought in the altar of Persephone, the Queen of Hades and daughter of Demeter, the Goddess of the Harvest.
"Empowerment of the Divine Feminine is occurring globally through community Goddess circles," she says. "What I refer to as 'Age of Ma' has been rekindled for all living, loving beings to play their part in our shared (R)evolution. Going back to our roots, Mother Earth is our altar, water our transformative guide, fire our source for inspiration and courage, and air our connection to spirit through each breath. Some of us no longer know the ancient ways in our lineages so we look to traditions that have been preserved where there are commonalities, to rebirth ceremonies and rites as we hear teachings from Spirit."
Ceremonies and creative workshops, Beaubien notes, "address feelings such as sadness, anxiety, and fear as we dance, sing, feast, write, share feelings, tell stories, play ... . The wild untamed feminine is given a safe place to be free."
How to Find a Goddess Circle
Unless you're in Boulder or Berkeley, invitations to Goddess circles likely won't be stapled to telephone poles around town. You won't find one in the church or support group listings in the newspaper. And if you're new in town, it's probably best not to announce your pagan leanings on the local Facebook group. Instead, you'll use word-of-mouth, or maybe a little magic.
Listen and look for keywords such as Red Tent, new moon gathering, Reclaiming, full moon women's group, drumming circle, Crone meeting, earth-based spirituality, solstice or equinox celebration, and the earth-cycle holy days: Maybon, Beltain, Lammas, and Samhain.
Ask at the local New Age shop that sells crystals, herbs, and tarot decks. Or check in with a local Unitarian Universalist Fellowship. They recognize animists and have an official group called Covenant of U.U. Pagans (CUUPS). You may find like-minded souls there.
In larger cities, you will find coaches, counselors, and priestesses of various orders advertising therapy sessions, workshops, trainings, and certifications—all for a fee. Can feminine enlightenment and self-esteem be purchased? Certainly, an "energy exchange" should occur between you and any mentor, but look closely at the number of years and classes you'll be expected to commit to for your priestess diploma.
Which Goddess Circle Is Right for You?
Try out several circles to find one that fits. Are you a gentle Crone seeking the company of other wisdom keepers? Perhaps you're a new Mother looking for support and friendship in a space where your child is welcome. Or maybe you're a feisty lover looking for the wild dance. Maiden, Mother, or Crone, you'll find what you need.
Starhawk gives this advice: "Beware of organizations that proclaim their devotion to the light without embracing, bowing to the dark; for when they idealize half the world, they must devalue the rest."