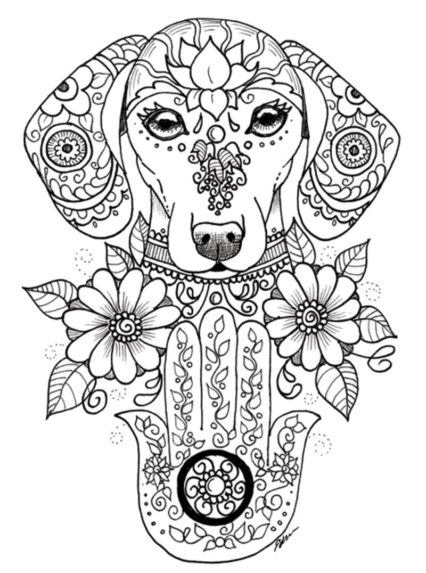 Dogitation

CANINE HELP ALONG THE BODHISATTVA PATH
Share your finished colored Doxie with the S&H social community. Tag your images with #DogitationHamsa, @SpiritHealthMag and @artbyeddydelacruz—we'll repost our favorites!

Or if social media is not your thing you may email your finished artwork here.
To Practice With A Pet
(Or The Memory Of A Pet)
Sit down with your animal friend. Assume the position.
Your dog might be on the floor in front of you, at your side, or on your lap, wherever is most comfortable and familiar.
Be at ease together, attuned to each other in your familiar spiritual embrace.
Start breathing together.
Place one hand on your belly and the other on your dog's to help you stay grounded and sound.
Let it happen, without obsessing about it, wondering whether you're properly synchronized or not. Dogs have no plans.
In pet-time there's no time, no appointments and no disappointments.
All good, the Primordial Time Zone.
Let it all settle. Let go; let come and go; let be. If your dog is facing you, gaze into its eyes.
Relax, let the natural rhythms of dogitation overtake you and unite you both in the space that only all animal lovers know.
Enter into the great timeless circle of cosmic breathing with your silent accomplice and pet-partner in co-meditation
---
Adapted from: The Dharma of Dogs: Our Best Friends as Spiritual Teachers.
Edited by Tami Simon and published this month by Sounds True