Caroline L. Young
Caroline L. Young, MS, RD, LD, RYT, is a nutrition counselor, yoga teacher and freelance journalist. Caroline is owner and founder of Whole Self Nutrition (WSN), LLC, which provides online nutrition therapy and coaching for people struggling with disordered eating, eating disorders, or chronic dieting and people who want to develop healthier relationships to food, body and exercise. Within WSN, Caroline provides online public and private online yoga groups, and media services, including writing and webinars.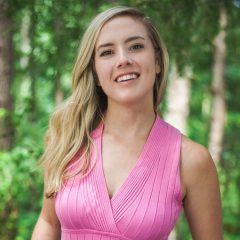 For those of us who experience body anxiety, normal tasks and experiences can fe…
Menopause brings with it immense change and vulnerability, making it the perfect…
During menopause, the body's needs change. Try these five options for different …
Couldn't get to sleep last night? Here are five ways to have a better day today,…
Food is more than just fuel for your body—it's also fuel for your mood. Discover…
You are doing all the "right" things with your diet... but your stomach is const…
Anxious? You have the power to make yourself feel better.

For anxiety management, try putting on your nutrition armor of adequacy, consist…
Plus: 10 Body Neutrality Affirmations