Antasha Durbin Solomon
Antasha Durbin Solomon is a prolific author and spiritual teacher who has dedicated the past 18 years to studying and applying spiritual principles in her life and work.
Her recently released book "Are You on the Right Track?" is a 101-day guided journal that aims to help readers rediscover their true selves, release limiting beliefs, and live an authentic, purpose-filled life.
If you're ready to rediscover your true self and live a more purpose-filled life, pick up a copy of Are You on the Right Track? today. It could be the start of a life-changing journey.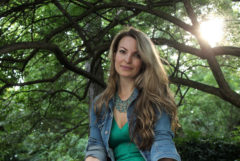 Sponsored Content From CAJ Spirituality
Sponsored Content From CAJ Spirituality
Sponsored Content From CAJ Spirituality
Here are seven ways to make a relationship work between an atheist and a spiritu…