Angela Buttimer, MS, RYT, LPC
Angela Buttimer, MS, RYT, LPC is a psychology expert, licensed psychotherapist, lifestyle and executive coach, keynote speaker, corporate trainer, and founder of the Atlanta Center for Mindfulness and Well-Being. She is also a daily columnist for the Atlanta Journal-Constitution, and her column is called "Joyful Daily."
She is a regularly featured television guest on Good Day Atlanta Fox 5 for segments on human behavior and psychological strategies to feel, perform, and live better. Her work has also appeared in HuffPost, CNBC, and UK Telegraph.
Her TEDx talk is called "Defusing Stress with Mindful Mojo." She is the author of two books, CALM: Choosing to Live Mindfully (2011) and INSPIRED: 365 Days of Mindful Mojo (2017)." She is currently writing her third book on the subject of mindful leadership.
Angela is happiest dancing—from the stage during keynotes, in classes with friends, and in the kitchen with her husband and family. You can learn more about her at her website pathtobestself.com.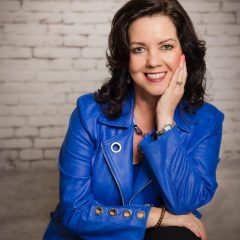 Struggling to get up in the morning and feeling anxious? Experiment with these 1…