Ana Lilia
Ana Lilia is a certified breathwork teacher and healer leading thousands of people to intimately connect with their breath as a pathway for transformation. Ana channels her intuition and seamlessly blends active breathwork, intuitive guidance, and curated music to create personalized and healing journeys. She creates safe, supportive, and loving spaces for participants to connect with deep parts of themselves, access their intuition, and unleash creativity.

Ana walks clients through a two-step pranayama breathing technique that moves blocked energy and emotions through the body, leaving them feeling clear, relaxed, and empowered. Her transformative work includes one-on-one coaching, private sessions, manifestation workshops, and virtual events to support clients in using their breath as a tool to help them calm their body and mind.
Ana specializes in managing anxiety with her exclusive 7 day Breathwork for Anxiety program where she offers a combination of guided breathwork meditations, visualization exercises, and intentional journaling. She also leads a weekly "Community Gathering" to help individuals manage the unique stress, fears, and overwhelm amidst the global pandemic. An international experience, people from across the world including Canada, Mexico, France, Germany, El Salvador, New Zealand, and more join Ana every Saturday to mitigate feelings of isolation and loss.

Ana regularly facilitates breathwork experiences within corporations and on behalf of leading brands, including Hyundai, Columbia Records, USC, Recording Academy and American Heart Association. She has led sessions at WeAllGrow Latina, the country's largest conference for Latina creators and entrepreneurs, and at wellness retreats in Los Angeles and Peru. Her work has been featured on NBC Nightly News with Lestor Holt, BravoTV, Los Angeles Times, Harper's Bazaar and more.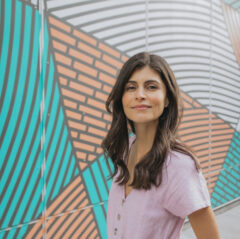 Breathwork is an active form of meditation in which you manipulate your breath t…