Explore spirituality in the kitchen and try this recipe for vegan Samosa Pot Pie.
In their book The Yoga Plate, Victoria and Tamal Dodge share that yoga "is about creating a spiritual life by transforming our daily activities into actions infused with a higher consciousness." An integral part of this involves what and how they eat. Read below for a taste of insight, and a recipe for a comfort food infused with their philosophy.
---
Perhaps it sounds strange to equate our eating habits with spirituality and meditation. But, aside from the very real effects of knowing you are living life in a way that is creating minimal pain and a more sustainable world, when we eat mindfully, literally everything shifts.
Another component of the Eight Limbs of Yoga involves offering all of our actions to our higher power. Everything in our life becomes spiritualized because it is all an offering. Our work becomes spiritual, our movement becomes spiritual, and our food becomes spiritual.
Of course, this idea is not limited to the yogic tradition. If you grew up in a Christian household, you may have said grace before a meal. Or if you are Jewish, perhaps you eat certain foods that are symbolic in recognition of specific occasions. It's the same with yoga. We eat our meals mindfully, aware of what we have been given, and as an offering.
This doesn't have to involve more than taking a moment before we eat to ask God to accept our food or to have it first. You'll notice there's a slight difference between this and the concept of grace, wherein we thank God for being a provider. Instead, we are offering our food as if the sacred is our friend whom we want to share it with. This practice has been performed throughout the ages in India, the seat of yoga.
From the moment we are born, our bodies are in a state of perpetual change, altering and aging. Throughout our life, our circumstances change, the locations we live in change, and so on. When our financial, physical, and mental circumstances alter, so do our ideas and the ways we perceive the world.
Likewise, the more we spiritually infuse our life through acts and rituals, the more conscious of that which is greater than us we become aware of. We begin to adjust our mind-set into one of seeing, feeling, and willing in the direction of the spiritual.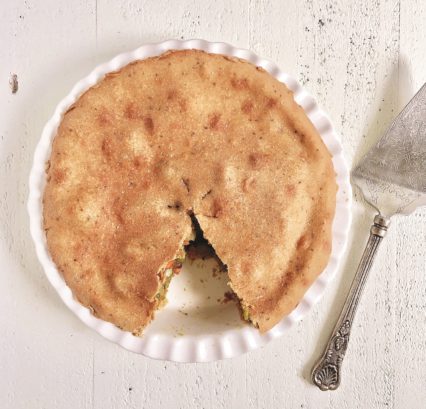 Samosa Pot Pie
Everyone loves samosas, and everyone loves pot pie. We decided to marry the two together, and the combination is divine. It is crunchy, filling, and delivers a classic samosa flavor that will explode in your mouth. Our son loves samosas, and he thinks this pie is the bomb!
Makes one 9-inch pie

For the crust

2 cups white whole-wheat pastry flour
1 tsp. ajwain seeds
1 tsp. Himalayan pink salt
1 Tbsp. coconut sugar
½ cup coconut oil
½ cup ice-cold water
1 Preheat the oven to 375 degrees F.
2 Place all the crust ingredients into a food processor and blend until a dough forms. Divide the dough into thirds.
3 Sprinkle flour on a clean, dry surface and roll out of the dough into a circle shape about 3 inches larger than a 9-inch pie dish.
4 Carefully transfer the dough circle to a 9-inch pie dish, allowing the edge of the dough to rest over the pie dish rim. Use a fork to punch holes around the inside bottom of the piecrust so that the steam is released when the pie is baking.
5 With the reserved dough, roll out a circle the width of the pie dish. This will be the covering for the pie once it is filled.
For the filling
2 Tbsp. coconut oil
1 tsp. garam masala
1 tsp. mustard seeds
½ tsp. coriander
¼ tsp. ginger powder
¼ tsp. turmeric
1 tsp. ajwain seeds (also known as carom seeds, find in the spice aisle.)
½ tsp. cumin seeds
1½ tsp. Himalayan pink salt
¼ cup minced red onion
1 tsp. minced garlic
5 cups peeled and cubed potatoes, boiled
½ cup chopped carrots
1 cup peas
1 Heat the coconut oil in a large pan and add in all the spices and salt, followed by the onions and garlic. Stir together and sauté for 2–3 minutes. Then add the potatoes, carrots, and peas and cook for an additional 2–3 minutes.
2 Spoon the filling into the piecrust and cover with the second circle of dough. Fold the edge of the bottom dough circle over the edge of the top circle and form a ridge with your fingers. Poke holes in the top circle with a fork.
3 Bake the Samosa Pot Pie in the oven for 30–40 minutes, or until the top is golden brown.
4 Serve with Cashew Cream Everything Sauce and Avocado Mint Chutney.
Cashew Cream Everything Sauce

Our family loves this sauce and we literally put it on everything — hence the name. It's full of healthy fats, antioxidants, vitamins, and minerals, and it can brighten up just about any dish you make with an extra dash of flavor. (It keeps well for up to one week.)
2 cups raw cashews, soaked for at least 2–3 hours
1½ cups water
½ cup fresh lemon juice
1 tsp. Himalayan pink salt
½ tsp. garlic powder
1 Place all the ingredients in a high-powered blender and blitz for 45 seconds. Stop, then blitz for another 45 seconds, or until creamy smooth.
Avocado Mint Chutney

Mint chutney is a staple in Indian cuisine. It is healthy, light, and scrumptious!
1 packed cup de-stemmed fresh mint
1 packed cup chopped fresh cilantro
2 Tbsp. maple syrup
¾ tsp. Himalayan pink salt
1 cup water
½ cup chopped avocado
¼ cup chopped red onion
2 Tbsp. lime juice
Pinch of chili powder
1 Place all the ingredients in a high-powered blender or food processor and blitz for 45 seconds, or until smooth.
2 Store in an airtight container in the refrigerator for up to 1 week.