More Than the Munchies; This Market Is Hungry for Information and Your Products
Hungry for Sales? Target This Market
The information-and-insight-hungry health and spiritual market we serve is always interested in learning about new ways and means of improving their health and wellbeing, as well as the happiness of those around them. That is why Spirituality & Health's September-October issue is focused on CBX. Our readers are leaders, so they expect forward-looking content from Spirituality & Health—and CBD only scratches the surface of the products and uses of cannabis-derived products.
Over recent decades, researchers have established that there are over 100 phytocannabinoids presently found in the cannabis plant (CBD being only one of them). Now the scientific community has begun to explore the various compounds within this plant, and in our upcoming issue, we interview a field expert who addresses current research and potential trends. (Spoiler alert, CBG is set to be the next big cannabinoid star).
While 57% of the respondents to our survey of print and digital readers say they use cannabis or CBD products with a frequency of sometimes up to daily, another 19% say they have never used but are interested in trying a CBD or cannabis product. Of the Spirituality & Health readers in our national survey, 26% use cannabis or CBD products "sometimes for health remedy purposes" compared to 19% of the national sample.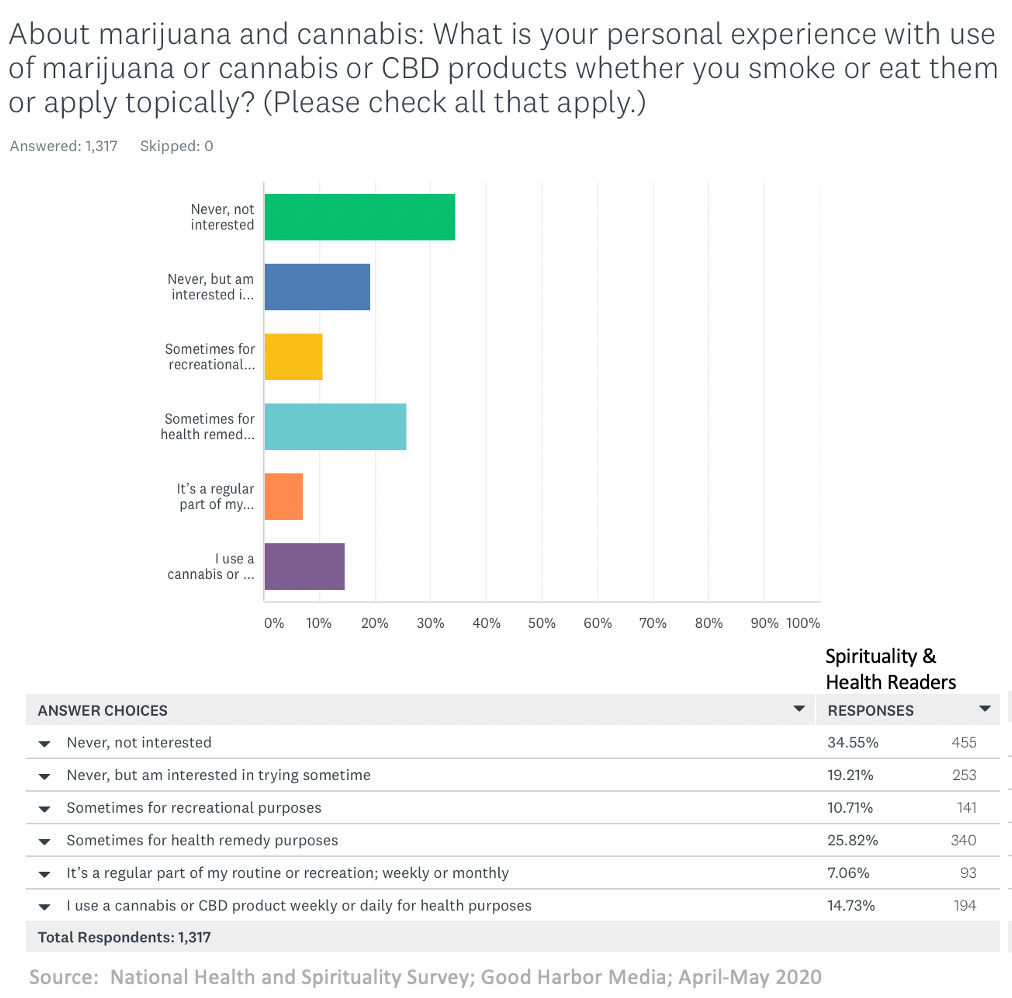 Advertising CBX or cannabis products with Spirituality & Health will not only sell to a large and targeted market of users, but those users will be your brand ambassador to help your brand grow. We have written before about what makes viral/influencer campaigns work—it's the many respected voices, not the few famous ones.
For best success, we suggest a brand building ad campaign both online and in print in September/October, as well as participation in the CBD Gift Guide section in November/December.
Meanwhile; for your reference, here are some of our recent articles about cannabis and CBD:
CBD Buying Tips: What to Consider if You're in the Market
Planning Ahead:

September/October issue
Special focus: Books We Love editorial section
Space Reservation: July 10
Materials Due: July 17
November/December issue
Special focus: Holiday Gift Guide (including CBD Gift Guide) and Encore Careers editorial section
Space Reservation: Sept. 11
Materials Due: Sept. 18
January/February 2021 issue
Special focus: Retreat Guide editorial section
Space Reservation: Nov. 6
Materials Due: Nov. 13
Contact your S&H sales executive to let us know how we can help you, or for information or a proposal to make the second half of 2020 a big success.

Ann Reed: [email protected]
Tabetha Reed: [email protected]
Peter Lymbertos: [email protected]
P.S. Here's the cover of the July-August issue, just now appearing on newsstands; especially Barnes & Noble, and progressive & natural food stores like Whole Foods nationally, Wegmans in the NE, and Market of Choice in the NW.