The Most Powerful Endorsement Is a Gift
Gifts That Keep on Giving: More Sales
What is the most powerful endorsement for your product? When a friend or family member gives it as a gift.
That potential is just one reason you should be including the Spirituality & Health Holiday Gift Guide in your advertising plans this fourth quarter. This special section will be a part of our November/December Holiday Issue, which will arrive on newsstands and be in subscribers hands Oct. 27—just in time for the holiday shopping season. Space is limited, so call or email us today to learn more!
2020 Holiday Gift Guide Package
• 1/4-page 4-color in November-December print issue
• Optional participation in the Holiday Gift Basket Giveaway
• Holiday Gift Basket Giveaway promotion on web and email
• Dedicated email blasts for 3 key gift categories, including your 1/4-page creative:
• Books and media
• CBD products
• Healthy and natural skincare, food, and other products
An Example: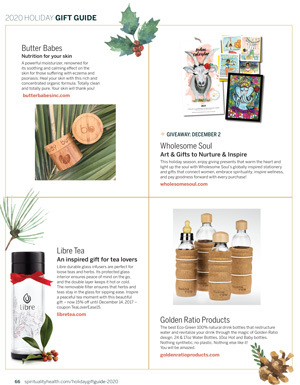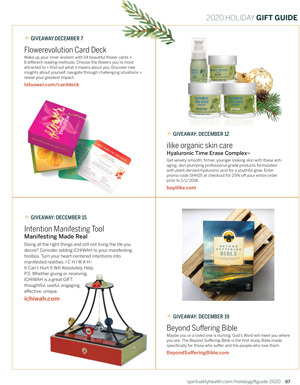 Two for One
When a gift is made, it's an endorsement and a sampling program wrapped in one. Since the Spirituality & Health audience is made up of natural health and spiritual influencers, your advertising in S&H works overtime.
Our audience is avidly and constantly seeking new and better health and nutrition products and inspiration. And they are trusted advisers to others. Research shows they are asked approximately 50% more often than average Americans for advice on health, nutrition, and wellbeing.
Space is limited, so get your reservation in soon:
Ad reservation deadline: Sept. 4
Materials deadline: Sept. 11
Issue web launch: Oct. 26
Print on sale: Oct. 27
Eblast schedule: Check with your sales person
Contact your sales person for details and a proposal:
Ann Reed: [email protected]
Tabatha Reed: [email protected]
Peter Lymbertos: [email protected]