What Does Annie-the-Musical Have To Do With Spirituality & Health?
More Than One Hundred Million $ of Pent-up Demand for Spiritual Travel and Retreats
We're an introspective bunch, Spirituality & Health team members and the S&H audience. But not so introspective that we don't like getting out and being with others. In fact, learning from others is another key attribute of ours. So when we read that Broadway shows will be reopening in September and that tickets are going on sale this week we did our own little dance. Not because we'll be dashing off to New York City (although we do have a lot of readers in the Big Apple) but because with Broadway opening means our favorite retreats, spas, and conferences will be reopening too. And we can't wait to get back to travelling.
Just over a year ago, we surveyed our market and found that 38% travel yearly or more often for "health and/or spirituality or religion-oriented events." Another 28% of the market says they attend a retreat at least annually, and 31% visit a spa annually or more often, while an amazing 48% say they attend training at least once annually.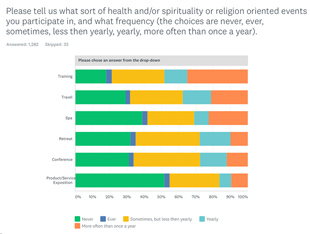 When we think of Broadway we think of Annie, we hum "the sun will come out tomorrow." When we think of the reopening of retreats and conferences, we think of returning to the travel that refreshes us and meeting people who inspire us, it makes us feel sunny. Our audience may not be the first to fill Broadway theaters, but it will be the first to book their trip for spiritual renewal and inspiration.

Talk to us to learn more about our audience research and how we can help you. You'll feel sunny when you do.

Ann Reed: [email protected]
Tabetha Reed: [email protected]
Peter Lymbertos: [email protected]
There is always more information about advertising in Spirituality & Health here.