Review: "Sanctuaries of Childhood: Nurturing a Child's Spiritual Life"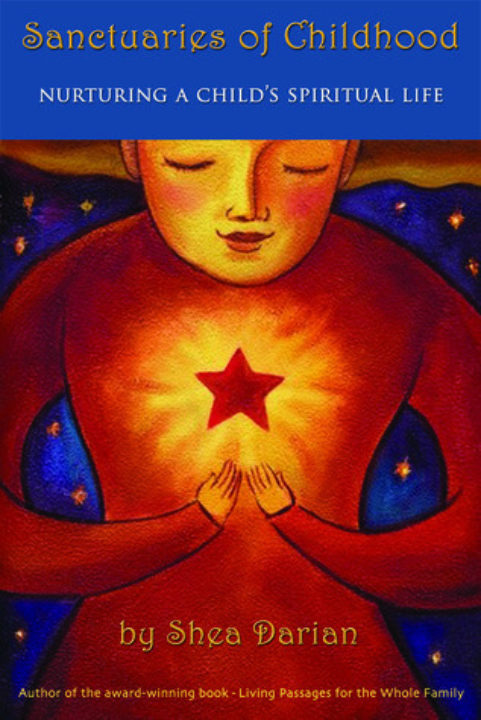 Sanctuaries of Childhood: Nurturing a Child's Spiritual Life
By Shea Darian (Gilead Press)
When Shea Darian's first child was born, she immediately knew that "in receiving her life into my care I was agreeing to uphold a sacred trust — not only to feed, clothe, and protect her physical body but to nourish and protect her soul-life as well." She made it her quest to find ways to create sanctuaries, places carved out in time and space in the midst of daily life, in which the sacred could dwell. Within these sanctuaries "the wonder of nature, the magic of song, the joy of helping another, the comfort of being held in a loving and supportive family circle, through poetry and prayer — a child can experience the interwoven connection between the physical and spiritual," she says. Each of them "provides a haven in which a child's soul may be nurtured and their spiritual relationships and understanding deepened."
Darian understands the dilemma of today's parents, who often have little time or energy to devote to the care of their children's souls and often feel inadequate to do so. She knows that just sending a child to a church, synagogue, or mosque for religious instruction is not the answer and that what is needed for our children to thrive spiritually is for their home to be a place where "goodness, beauty, and wisdom prevail." Her multi-faith, ecumenical resource for parents and caregivers helps us to see anew the sacred in the ordinary moments of family life. Through simple blessings, rituals, prayers, songs, and most especially, through recognizing the sacredness of the world around us, Darian invites us to make of our homes true sanctuaries in which our children's — and our own — spirits can thrive.
Shea Darian earned a BA in speech and theater from Iowa State University and a master of divinity from Garrett-Evangelical Seminary. She is certified as a multifaith spiritual director through the Arizona Ecumenical Institute for Spiritual Directors and served as a youth minister, minister through the arts, minister of worship, and Waldorf School administrator. She and her partner, Andrew, are the parents of two young adults.