Plant-based chef, nutrition professor, and researcher Amy Symington shares her take on creating meals that support community, connection, and health.
Long-table dining was part of Amy Symington's childhood. She grew up on a farm in southwestern Ontario, and relatives and friends frequently gathered around an antique oak dining table—one that is now used by Amy's own growing family.
Amy lost her mother to breast cancer, which inspired her to devote herself to sharing the health benefits of a plant-based diet. She runs the culinary nutrition program at Gilda's Club Greater Toronto, named after comedian Gilda Radner, who died of cancer in 1989. It's one of 20 Gilda's Clubs in North America.
Symington spoke with S&H about the joys of eating together and her new book, which serves as a comprehensive guide for anyone who wants to prevent or manage a chronic disease through nutrition.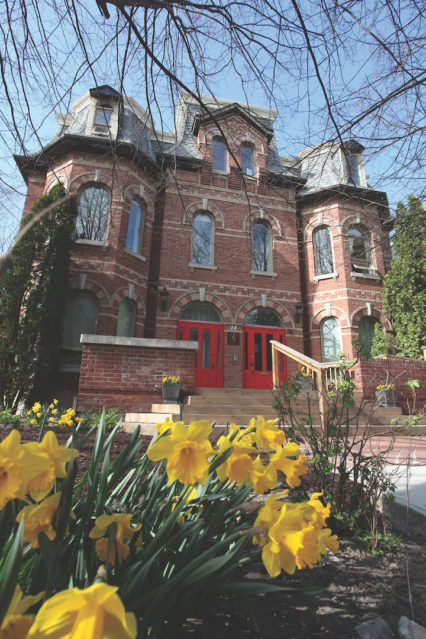 S&H: Gilda's Club exists to help people touched by cancer. How did the long-table concept evolve there?

Amy: Originally, the supper club program was just about being practical. There are wellness meetings in the evenings, and people were trying to be able to attend those. It started so people could come straight from work, or they didn't have to worry about feeding their kids—they were actually able to do the social and emotional work that they needed to do.
The supper club has become one of the most popular programs we have. The team of volunteers and I feed about 75 people a week with health-promoting, nutrient-dense meals focusing on plants—what the research suggests in terms of what type of diet you should be consuming for disease prevention and disease management.

People come and sit for a meal. It's very relaxed, and there's no pressure to share, but, often, the meal becomes a gateway to a deeper conversation. It's just a very relaxed atmosphere that is socially and emotionally, as well as nutritionally, supportive.

What is the alchemy that happens when a group of people sit at a table together to share a meal?

There's research about social isolation and how harmful it can be for your health. It can cause anxiety and depression, which can increase inflammation in the body, which can increase your risk of all sorts of chronic diseases—cancer included.
Eating together is one way to minimize social isolation. The research [suggests] we need to eat together; we need to sit down and enjoy our meals. It's also better for your digestion if you're not eating in a hurry. Normally, we live in this grab-and-go world. The whole idea of long-table community dining is one of sitting down and slowing the pace of eating.
Anecdotally, the outcomes are friendships—again minimizing the social isolation and being among people who are going through exactly the same thing you are. There's no elephant in the room. They all know you're there for the same reason—because cancer has touched your life in some way. It's comforting.
I guess all of that's on hold right now?
The supper club programming itself is on hold because, of course, people who are going through cancer are at a greater risk because their immune systems are compromised.
However, today we just ran our first virtual nutrition showcase. In addition to the supper club programming, we do nutrition showcases where I talk about a topic, give the facts and some tips on what to eat and what not to eat. Then I'll demo three recipes and everyone samples—that's usually what happens.
Today, we did a virtual version, where we gave them all the recipes and things they could make for themselves, for their loved ones, or to have their loved ones make for them. We are still trying to reach out. Cancer is already socially isolating, so now is the time we really need to come together as a community to help minimize the feeling of being alone. That's the whole theme of Gilda's—that no one should face cancer alone.
What are the factors you consider when you plan a menu for a nutrient-dense meal?
I consider questions such as: What do they like? How much time do I have? What's in season at the moment? And, certainly, any allergies my guests may have.
I'm always thinking about serving nutrient-dense foods, which really means focusing on whole-plant-based food. So think fruits, vegetables, nuts, seeds, legumes, whole grains, and good quality protein (containing close to or all of the nine essential amino acids your body needs). I always like to go for comfort foods. So if you're doing a three- or four-course meal, always offer at least one or two dishes that are familiar, good, and comforting.
How do you overcome resistance to plant-based food?
I grew up on a small farm, and a lot of my family find vegan or plant-basedforeign—or even scary. I usually make mac and cheese, or I'll make veggie shepherd's pie with mushroom gravy because that's food they recognize and know; it's nutrient-dense; and it's so stodgy and satiating.
I can honestly say it's easiest speaking to their bellies. If something tastes good, they're not going to argue.
They'll eat it. My brother, who is probably the biggest carnivore I know, says if I would cook for him all the time, he would be plant-based.
It's about making the food taste good, making it appealing visually—and how you sell it. Don't describe it as a vegan meal; talk about how it's a tempeh Bolognese with mushrooms and onions. It's all about the language that you sell it with.

Are you able to grow any of your own food?
I usually have some herbs and fresh greens, kale, chard, then a couple different varieties of tomatoes. The first year I moved into this place, we were way too ambitious and tried to grow peppers, jalapenos, and too many different things. I mostly grow in pots and have scaled back to just herbs—chives, rosemary, thyme, basil, three different types of mint.
On my family farm—which we go to every summer, at least a couple of times—I have a huge garden, so I'll just pack up the car. My dad and his wife come up frequently as well, and they bring us all sorts of produce. I also get an organic box that's sourced from local farmers. For me, it's all about having fresh, locally grown produce.
Is there any new or interesting research that's been done on plant-based eating?
I think most people know we should be eating fruits and vegetables, but they don't necessarily know it actually helps to prevent chronic diseases like cancer, type 2 diabetes, heart disease, and obesity. I think that's something people haven't been told enough.
We have a cancer nutrition guide we just published on Gilda's Greater Toronto website that coincides with the research we're doing. It talks about all the ins and outs of what to consume to prevent cancer, or if you have cancer, or are taking treatments. It also addresses what to consume to prevent recurrence.
One thing I suggest in terms of disease prevention and managing diets is making sure you're eating at least one orange food (carrots, squash, sweet potatoes, yams), one green (ideally dark leafy greens), and one cruciferous vegetable (cauliflower, broccoli, cabbage) every single day. Those three have the most vitamins and minerals, and are the most nutrient-dense foods.
What do you think of all the meat substitute products out there?
It's still a processed food, which you want to limit your intake of. They are higher in sodium, but, with that said, they are definitely lower in saturated fat.
They're a treat food. There's a time and place for it. Once in a while is fine, but I definitely wouldn't suggest consuming it regularly. Sometimes it is nice to have such convenient foods, and then you can use them to transition into a more whole-food, plant-based diet.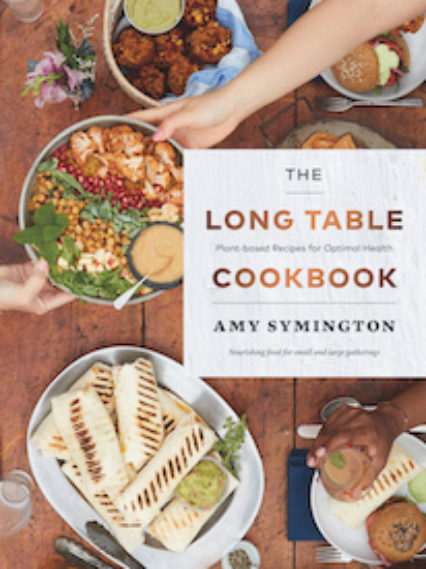 And you have a new book.
The Long Table Cookbook: Plant-Based Recipes for Optimal Health has been something I've been working on and dreaming about doing for many years.
I've been doing the supper club program since 2012, so, for a long time now, we've been wanting to have a concise guide you can just hand people and be like: Here you go.
You don't need to do the research yourself during this stressful time in your life. Follow this, or your family members can make this food for you. The whole process has been wonderful—a lot of work, but also just an absolute dream come true.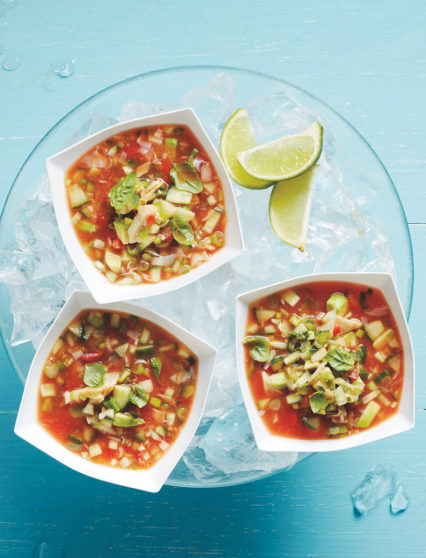 CUCUMBER AND LIME GAZPACHO

Preparation time: 20 minutes for 6 servings; 30 minutes for 24 servings
Nothing beats a refreshing gazpacho on a sweltering hot summer day! Pour it in a Mason jar and throw it into a cooler for an instant to-go meal. It's my favorite way to take advantage of fresh local produce.
INGREDIENTS (6 SERVINGS)
1 avocado, diced
1 large English cucumber, diced
1 green pepper, seeded and diced
1 red pepper, seeded and diced
1 green chile pepper, seeded and diced
1 bunch green onions, minced
1/2 bunch basil, stems removed, cut in chiffonade
1/2 head garlic, pureed
4 teaspoons lime zest
1⁄3 cup (about 2 limes) fresh lime juice
2 1/2 cups low-sodium vegetable stock
1 1/4 cups tomato juice
3/4 cup canned artichoke hearts, drained, rinsed, and diced
1/2 cup white wine vinegar
1/2 teaspoon sea salt
GARNISH
1/2 bunch basil, cut in chiffonade
Combine all ingredients in a large stockpot. Taste and adjust seasoning if necessary. Chill in refrigerator for 1 to 2 hours before serving. Garnish with basil.
RED BEAN AND FENNEL SAUSAGES WITH SWEET ONION MUSTARD AND CULTURED VEGETABLES
Preparation time: 10 to 15 minutes
Cooking time: 30 minutes to 1 hour
Cue up the barbecue! Even when eating for optimal health, barbecues are still a viable option. Of course, healthiness has everything to do with what you select to put on yours. This recipe is a first-rate, plant-based option for all your summer gatherings, and the sausages can be made ahead and frozen—perfect for last-minute barbecue invites. Serve them up on home-baked buns with tangy sweet onion mustard and probiotic-rich cultured veg (as described below), or slice them to add to your favorite pasta dish or pizza. Note the cultured vegetables and the mustard are best prepared a few days in advance.
INGREDIENTS (6 SERVINGS)
1 cup canned red kidney beans, drained and rinsed
1 cup water
1 cup vital wheat gluten flour
1/4 cup nutritional yeast
1 1/2 teaspoons toasted fennel seeds
1 teaspoon black pepper
1 teaspoon onion powder
1/2 teaspoon sea salt
1/4 teaspoon ground thyme
1/2 head garlic, minced
1 tablespoon extra-virgin olive oil
1 tablespoon tamari
Preheat oven to 400°F. In a food processor, combine beans and water, and process until completely smooth, working in batches if needed. Transfer to a large bowl.
In a large bowl, mix together dry sausage ingredients.
In a small bowl, whisk together the garlic, oil, and tamari. Stir into the bean puree. Add wet ingredients to dry ingredients, and mix well to fully incorporate.
Using a 1⁄3 cup measure, scoop out a ball of the sausage mixture onto a small sheet of aluminum foil and form into a 5-inch log. Tightly wrap in foil and then twist ends to create a sausage. Repeat with remaining mixture.
Line the wrapped sausages in a single layer on baking sheets. Bake sausages until the outsides of the sausages are browned and feel firm to the touch, about 30 minutes for 6 servings. Remove from the oven and set aside to cool slightly.
Carefully remove the foil packaging from the sausages and serve on buns with mustard and cultured veg. To freeze sausages, allow to cool completely; then remove from foil; transfer to resealable bags; and freeze for up to 6 months.
SWEET ONION MUSTARD

Preparation time: 15 minutes
INGREDIENTS (24 SERVINGS)
2⁄3 cup white wine vinegar
3 tablespoons maple syrup
5 tablespoons brown mustard seeds
1/2 cup minced sweet onion
1/4 tsp sea salt
In a small bowl, combine all ingredients and allow to soak for 30 minutes at room temperature. Transfer to blender and blend on high until mustard becomes smooth and creamy, about 5 minutes. Store remaining mustard in an airtight container and keep refrigerated for up to 2 weeks.
CULTURED VEGETABLES
Preparation time: 15 minutes
INGREDIENTS (24 SERVINGS)
2 cups grated carrots, lightly packed
1 cup grated beets, packed
1/2 cup thinly sliced cabbage, packed (reserve 2 large leaves)
1 cup water
4 cloves garlic
1/4 tsp sea salt
1/4 bunch dill, chopped
In a large bowl, combine carrots, beets and cabbage. Remove 1 cup of vegetables, and add them to a blender with the water, garlic, and salt. Blend until vegetables become a smooth juice. Toss vegetables and chopped dill with blended juice until coated. Tightly pack mixture into a 16-ounce Mason jar, leaving about 1 1/2 inches at the top of the jar. Top with reserved cabbage leaves and tightly close the lid. Allow the mixture to sit for 3 to 4 days in a 68°F room away from sunlight. When ready, open the jar over a sink. Refrigerate and use within 3 weeks. Tip: The cultured veg tastes great in salads and on sandwiches and wraps.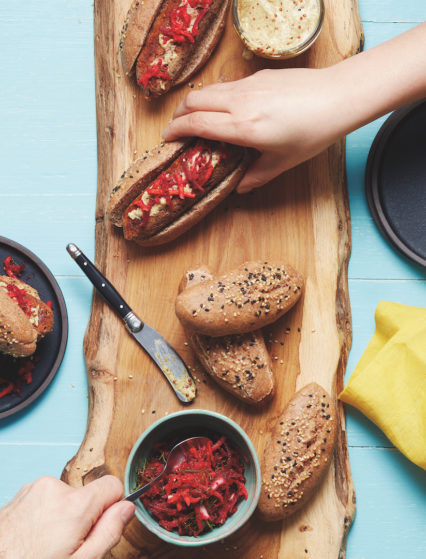 SESAME SPELT BUNS

Preparation time: 10 minutes
Cooking time: 25 minutes
INGREDIENTS (6 SERVINGS)
2 cups spelt flour
1 cup almond flour (or use spelt flour)
2 tablespoons ground flaxseed
1 1/2 teaspoons baking powder
1/4 teaspoon sea salt
2 teaspoons maple syrup
2⁄3 cup water
Topping:
1 1/2 teaspoons white and black sesame seeds
Preheat oven to 375°F. Line baking sheet with parchment paper. In a large bowl, combine spelt flour, almond flour, flaxseed, baking powder, and salt.
In a medium bowl, mix together maple syrup and water. Add the wet ingredients to the dry ingredients, and mix well by hand for 2 to 3 minutes until a sticky-firm dough is formed. Allow dough to rest for 25 minutes, covered, at room temperature.
Using a 1⁄3 cup measure, scoop balls of dough onto a cutting board and shape into rolls. Arrange them on prepared baking sheet, and slightly flatten. Lightly press sesame seeds onto the tops so that they stick. Bake for 25 minutes or until a toothpick comes out clean. Transfer buns onto a cooling rack, and allow to completely cool before slicing lengthwise.
Want more? Here are five delicious recipes to inspire healthy cooking.

Recipes for "Red Kidney Bean and Fennel Sausage with Sweet Onion Mustard and Cultured Veg" and "Cucumber and Lime Gazpacho" from The Long Table Cookbook, 2019, by Amy Symington, photos by Darren Kemper. Published by Douglas & McIntyre and reprinted with permission of the publisher. For more information, visit douglas-mcintyre.com.