Ayurveda has many recipes that can help improve the look and feel of your skin. Here are three quick and easy steps to get you glowing.
Try this routine, which takes you from exfoliation to a mask to moisturizing for a taste of Ayurvedic beauty.

Step 1: Ayurvedic Exfoliating Scrub
You can use this exfoliating scrub for the entire body a couple of times a week. You can also use this on your face every day if you like. It removes makeup, dirt, and dead skin, and leaves you absolutely radiant.

1/2 cup of unpasteurized honey
1/4 tbsp. organic sea salt
2 tbsp. organic coarse sugar

Mix all the ingredients well. Store in a wide-mouth container in your shower so that you can use it daily.

Step 2: Chickpea Face Mask
Now it's time for nourishment. My favorite skin nourisher is chickpea flour. There are many versions of this mask. It can be mixed with gooseberries, yogurt, cinnamon, or turmeric.

1 tbsp. chickpea flour
1 tbsp. water

Add enough water to the flour to create a paste. Apply this paste to your face (or entire body) and allow it to dry. Once the mask is dry, rub it off or dampen the skin with water and massage it in before you wash it off. This mask helps tighten the skin and always makes me feel five years younger. This can be done once a week.

Step 3: Soothing Massage Oil Moisturizer

I like simple rose water dabbed on the skin, but we can also use a delicate massage oil.

1/2 cup each olive oil and coconut oil
5 drops jasmine oil
4 drops lime oil
4 drops rose oil

Mix all the oils. Massage into your face or body after your skincare regime or in the place of lotion. Store the remainder.

This article comes courtesy of The Ayurveda Experience.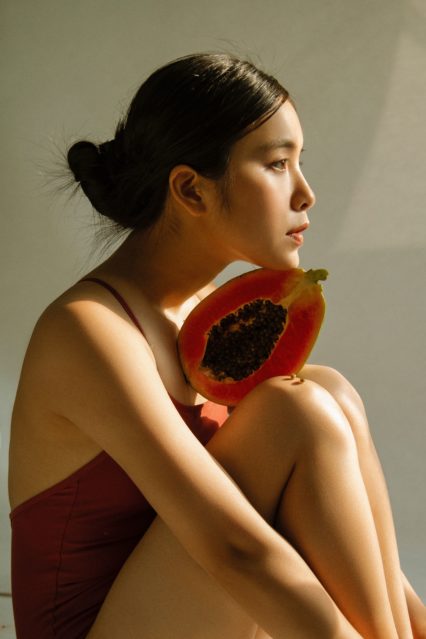 Bonus! Ayurvedic Foods for Improving Skin Texture
The Ayurveda Experience also shared these tips from Sruthi Bhat, BAMS, MPH.

If you are looking for a quick and easy way to improve your skin texture, look no further! Ayurveda offers many remedies for improving skin texture and skin health in general.

Grapes help to calm aggravated Vata and Pitta dosha. Grapes contain Vitamin C and antioxidants.
Papaya is rich in fiber and Vitamin C. Antioxidants present in papaya may help to strengthen immunity and eliminate free radicals.
Pomegranate pacifies Vata, Pitta, and Kapha dosha. It contains antioxidants like proanthocyanidins and flavonoids that can help delay aging.
Dates purify the blood and pacify Pitta. Dates contain Vitamin B5 (pantothenic acid) that can repair damage caused by free radicals.
Indian Gooseberry is very rich in Vitamin C, phosphorus, iron, carotene, and Vitamin B complex. It is also a potent antioxidant and acts as an antiaging agent.
Bitter gourd may help in lowering the occurrence of skin infections.
Cinnamon helps in increasing collagen production, this gives the skin firmness and elasticity. If you drink tea, try adding cinnamon powder to it. You can also boil cinnamon sticks in water and drink the water after straining.
Ginger contains gingerol, an anti-inflammatory compound which may help in preventing age spots.
Turmeric helps in purifying the blood and can help the skin achieve radiance. You can add a pinch of turmeric to lukewarm milk. Drink this before bed.