1. In The Daily Flame, you offer guidance from the "Inner Pilot Light." How do you help others to recognize their own light?
I use what Richard Schwartz PhD, founder of Internal Family Systems, describes as the "8 C's of the Self," which is synonymous with your Inner Pilot Light. These eight qualities—Compassion, Curiosity, Calm, Clarity, Courage, Connectedness, Confidence, and Creativity—can help you recognize this inner spark within yourself. Your Inner Pilot Light always radiates unconditionally loving energy, like a firm but tenderhearted mature parent.
2. There is a lot of hot anger in the world right now. How is anger connected to our inner flame?
Courage is related to hot anger. When anger is channeled through the heart and fueled by courage, your Inner Pilot Light may awaken you to a kind of heart-full anger, which is as fierce and hot-blooded as it is compassionate. This healthy use of anger can help you take a stand against all that is not love in the world.
3. Can you describe the connection between our Inner Pilot Light and our ability to heal?
If you're tuned in to the guidance of your Inner Pilot Light, you'll be clearly guided toward the healing modalities that are most aligned for you. You'll also receive insights into the traumas, misalignments, and other root causes of what may have interrupted your body's natural self-healing abilities in the first place. Your Inner Pilot Light knows better than any other expert what's required to restore your system to optimal whole health.
4. How can we work on strengthening our own knowing?
You can start by making a very sincere plea for a deeper connection, and approach it with a sense of playfulness. Once you've done that, guidance will start to show up unbidden, but you can also be proactive. I teach many practices, such as surrendering whatever you need help with to whatever higher power resonates with you, reducing your level of busyness, committing to a regular meditation practice, spending time in nature, asking for help from your dreams before you go to sleep, and getting curious about any physical symptoms.
5. You describe living from the heart rather than the head. What is the key to that shift?
When you learn to trust your heart and use your intellect only when it's appropriate, such as when you're doing your taxes, you open yourself to far more trustworthy ways of knowing, like spiritual guidance. The key to making that shift usually requires examining what happens when you make decisions only using the rational mind versus what happens when you begin to trust other forms of knowing—and you muster up the moxie to actually trust and follow them. That's when the magic starts happening, and that magic can help you shift from blind trust in your Inner Pilot Light to evidence-based trust.
—Kalia Kelmenson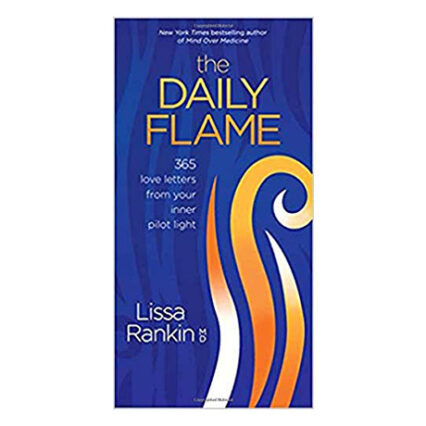 Lissa Rankin is a physician, speaker, author, and founder of the Whole Health Medicine Institute, a training program that explores spirituality in medicine.
Her book, The Daily Flame: 365 Love Letters from Your Inner Pilot Light, is available on Amazon.