A retired English teacher's touching, and timely, memory of his mother's kindness.
James McBride's wonderful tribute to his mother, The Color of Water, reminded me of an incident in my own Brooklyn boyhood which I relate here, so that my children and grandchildren will know something of my mother, Virginia Wanda Kotenska Herman, who died before they were born.
God appears, and God is Light
To those poor souls who dwell in night,
But does a human form display
To those who dwell in realms of day.
— William Blake
Summer, 1953.
I would be thirteen in November, and in the 8th grade at William Alexander Junior High School 51, and I was the King of Brooklyn. There was Prospect Park and the Brooklyn Library, the botanical gardens and the Brooklyn Museum and Zoo, the trolley to Coney Island, and the subway to the Hayden Planetarium and the Museum of Natural History in Manhattan, and my older brother Ernie taking me on weekends aboard the fishing boats out of Sheepshead Bay where he worked as a mate, and where, when the wind and the waves rose, I realized I wasn't as brave as I usually pretended.
But that morning I happened to be home, throwing a rubber ball against the stoop, the steps leading to the second story of our house at 641 10th Street, when here comes Bob, our black mailman. He always had a smile for me on the few occasions when I've seen him, and I suspect he's a cool guy. He certainly stands out in our overwhelmingly white neighborhood. It was already a hot morning, and Bob's sweating, his mailbag still quite full, but I get a hello and a smile just the same.
Bob unshoulders the mailbag and hands me our mail, and at that moment my mom comes out of the house. She smiles at Bob, and he says, "Excuse me ma'm, but could I trouble you to bring me a glass of water?"
Her smile widens, "Of course," she says, taking the mail from me. "Please, come in." He hesitates. "Please," she repeats, "It's cooler inside.'
And Bob the mailman follows my mom into our house.
I resume my ball throwing, but Bob does not come out. Finally I think, what the hell is she doing, feeding him lunch? So I go inside to see.
Laughter. They're sitting at the kitchen table, Bob with a large almost empty glass of ice water, both of them under a cloud of cigarette smoke – my mom's a heavy smoker—and they're talking about the Brooklyn Dodgers. Now, I like baseball, and I've been to Ebbets Field a few times, but my mom is a rabid Dodger fan, and the Boys of Summer are having quite the season. They have Peewee Reese, Gil Hodgers, Carl Furillo, Duke Snider, Roy Campanella, Carl Erskine, Johnny Podres, and my mom and every Dodger fan in Brooklyn is crazy for, and amazed by, Jackie Robinson.
And Bob? Well, you can imagine.
So it begins. Ice water in summer, hot coffee in winter, the mail down the line delayed fifteen, twenty minutes. My mom and Bob are talking, and a deep and lasting friendship is formed.
I don't know what they talked about besides baseball, but I assume Bob heard about mom's childhood on the farm in Poland, and how my dad would send money there as a sponsor for people who wished to come to America. Mom was already an American citizen, having been born in Ohio before her Polish parents decided to return to Poland. In her early twenties, mom decided she wanted to come back to America. When my dad's first wife died suddenly from a brain aneurysm, he was left alone to raise their four children, Jean, Helen, Theresa, and Ernie. As mom tells the story, he was there with the four of them to meet her when her boat arrived.
"What was I to do?" she said. "He needed someone for the children. So I married him." Seven years later, in March of 1945, my dad was killed at work in a train accident. I was four years old, and mom was pregnant with my sister Maryanne. Soon there would be six of us for her to care for.
Of course now I'm the King of Brooklyn, and I'm rarely there. School starts, winter comes, and goes, and in the early spring of 1954, I'm taking entry tests for the Catholic high schools, when I learn we're selling the house, and moving. The older kids are on their own now, but my mom and I, and my sister Maryanne, are moving to New Jersey.
It happened like this. After dad died my sister Helen found work as a sitter for Frank and Claire Thorburn's young son David, and since I was the same age, she asked if she could bring me along. They agreed, and I found a second family, and in David, and later in his two younger brothers, life-long friends. Impressed by Helen's patience, kindness, and firm supervision, Frank and Claire wanted to meet our mom. Claire was Jewish, Frank a Scotsman, and they both were delighted by my Polish mom. So much so that our families became quite close, and when the Thorburns moved to the country, to New Jersey, we often visited, and I got to spend several weeks with them every summer.
Frank and Claire wanted my mom to move out of the city, offering to give us a corner lot on their property to build a house. Mom agreed. David and I would now be classmates, as well as best friends, at Dover High School in Dover, New Jersey.
And Bob the mailman? Oh yes, they kept in touch—cards, letters, occasional phone calls, that only stopped in the summer of 1960, when my mom died of cancer.
I was now on my own, going into my junior year at Rutgers, but Maryanne would be going back to the city, to Queens to live with my mom's sister, my Aunt Jennie, and Uncle Eddie and her cousins, their three children, Stefan, Diane and Michael. It was a week after the funeral, and in the midst of these arrangements, when we received a phone call from Bob. Could he come to our home in New Jersey to talk to us about our mom? Yes, he could.
He came, with his wife and children, to tell us about that morning in 1953 when for the first time in his life he was invited into a white person's home.What it meant to him, a black man, to share laughter and conversation, food and drink with my mom, to be treated and recognized as a human being by a white lady. And he wanted us to understand.
Now it was 1960, and soon we would witness the turmoil of Civil Rights and Vietnam, violence and hatred, Mississippi and assassinations, and he wanted us to know you could fix it all with simple kindness, hospitality, shared humanity, and a glass of water. And he wanted all of us to understand.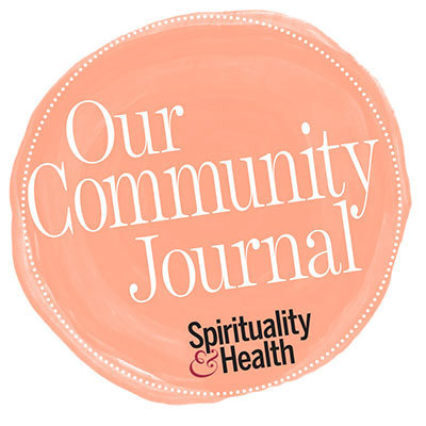 Share Your Story
Welcome to Our Community Journal — S&H's new platform to swap insight and inspiration within our community of readers.
We're looking for personal essays, written in your unique voice and style, offering wisdom from your journeys of emotional and physical healing, spiritual awakening, and joy.
Selected stories are shared in print and online, and promoted to our social media audience of over 300,000 people!
Read the latest stories and view submission guidelines at spiritualityhealth.com/OurCommunityJournal