Enjoy chocolate cake strewn with rose petals and a wisdom poem for Mother's Day.
What I Learned From My Mother

by Julia Kasdorf
I learned from my mother how to love
the living, to have plenty of vases on hand
in case you have to rush to the hospital
with peonies cut from the lawn, black ants
still stuck to the buds. I learned to save jars
large enough to hold fruit salad for a whole
grieving household, to cube home-canned pears
and peaches, to slice through maroon grape skins
and flick out the sexual seeds with a knife point.
I learned to attend viewings even if I didn't know
the deceased, to press the moist hands
of the living, to look in their eyes and offer
sympathy, as though I understood loss even then.
I learned that whatever we say means nothing,
what anyone will remember is that we came.
I learned to believe I had the power to ease
awful pains materially like an angel.
Like a doctor, I learned to create
from another's suffering my own usefulness, and once
you know how to do this, you can never refuse.
To every house you enter, you must offer
healing: a chocolate cake you baked yourself,
the blessing of your voice, your chaste touch.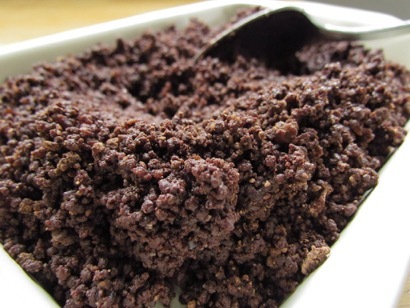 Raw & Rosy Chocolate Brownies
Makes about a dozen
I offer these brownies for Mother's Day, from my heart (and kitchen) to yours. Integrating the central principle of the six tastes of Ayurveda, they create a poetry of flavor, nourishment and beauty. Walnuts lay the foundation with their sweet taste, loving your mama with healthy fats that nourish the brain and cushion the joints. Because sweets are heavy, cinnamon* and cardamom* are infused to help digestion. Rose is astringent, cacao is pungent and bitter. All that's missing is the sour taste, but a dollop of creme fraiche or coconut yogurt will remedy that in a sumptuous second.
Above all, these rosy chocolate brownies are nurturing and beautiful like Mom, sweet like her love, simple and quick to make - leaving us free to enjoy our time together, unconstrained by cooking complexities.
Ingredients
1 cup walnuts1 cup medjool dates, pitted (about 8)
1/2 cup raw cacao
1 teaspoon rose water
pinch pink salt
a few good shakes of cinnamon1 shake cardamom
1 handful rose petals (dried or fresh)
Optional: 1 tablespoon cacao nibs
Method
Using an electric blender, grind your walnuts to a crumble. Add the dates one at a time, blending well before adding the next. One at a time, mix in the cacao, then the rose water, then the salt and spices.
The mixture should be moist. If you pick it up between two fingers and it easily fallsapart, add another bit of rose water. Be careful of two things: you don't want to over-water and you don't want to over-blend, or it can become more fudge than brownie.
Pour the mixture into a small baking tray. Spread it out evenly, pressing down with the back of a spoon or a spatula. Press evenly and firmly so the brownie will set. Optionally, you can press cacao nibs gently into the top.
Finish with a dusting of cinnamon, and sprinkle with rose petals.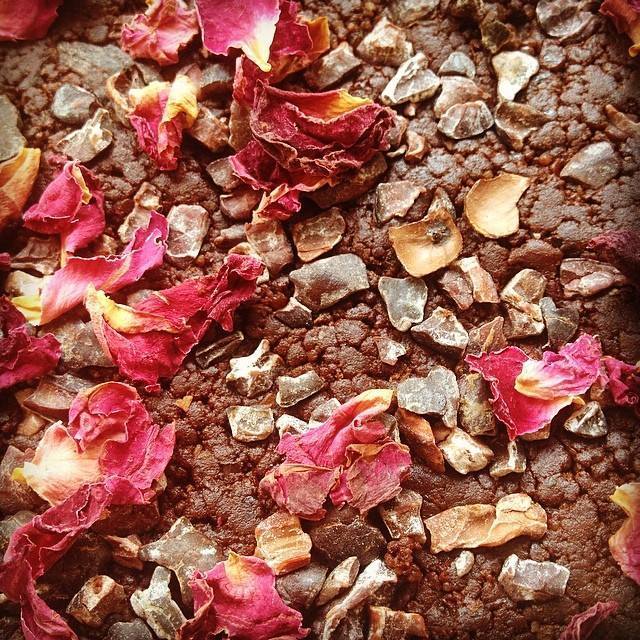 To every extraordinary mother, thank you for the fierce power and delicate tending of your unflinching devotion. Your love makes the world go round.
Happy Mother's Day!