A dive into the iconic career of LGBTQ+ alt-folk/rock heroine Ani DiFranco.
Early in her career, alt-folk/rock heroine Ani DiFranco made her position clear: "I don't prefer obscurity, but I'm an idealistic girl," she sang, "and I wouldn't work for you no matter what you paid." Since the release of her debut album in 1990, one major record label after another has offered her a contract, but she has routinely made good on her promise, opting to put her music out through the Righteous Babe Records label that she founded at age 19.
In DiFranco's view, the pursuit of mega-stardom is often an indirect search for self-acceptance through the adulation of others. "For me, that traditional path of fame and fortune just wouldn't work, because that wasn't going to get me closer to the real self-respect and self-love that I'm trying to achieve," the 50-year-old singer offers. "The minute I was on a TV show, lip-syncing with lipstick on or whatever the scenario was, it would have happened again and again. Whatever you had to do to polish the image, work the image—that was all going to make me feel worse about myself. So, I needed to find my own way."
For me, that traditional path of fame and fortune just wouldn't work, because that wasn't going to get me closer to the real self-respect and self-love that I'm trying to achieve.
As a longtime supporter of causes like women's rights and LGBTQ visibility, DiFranco earns her self-respect by working for the greater good. One of her most recent efforts toward social betterment was to serve as the producer of Long Time Gone, a collection of songs sung by men in prison. Proceeds from the album benefit communities that have been damaged by mass incarceration.
Several of the prisoners who appear on this album are serving life sentences with no chance of parole. "Many of them are as awake and gentle and thoughtful a spirit as you or I or anybody else, but because they committed a crime 40 years ago, they will never be free again, will never be recognized for the transformation they've undergone or the person they are now," DiFranco notes.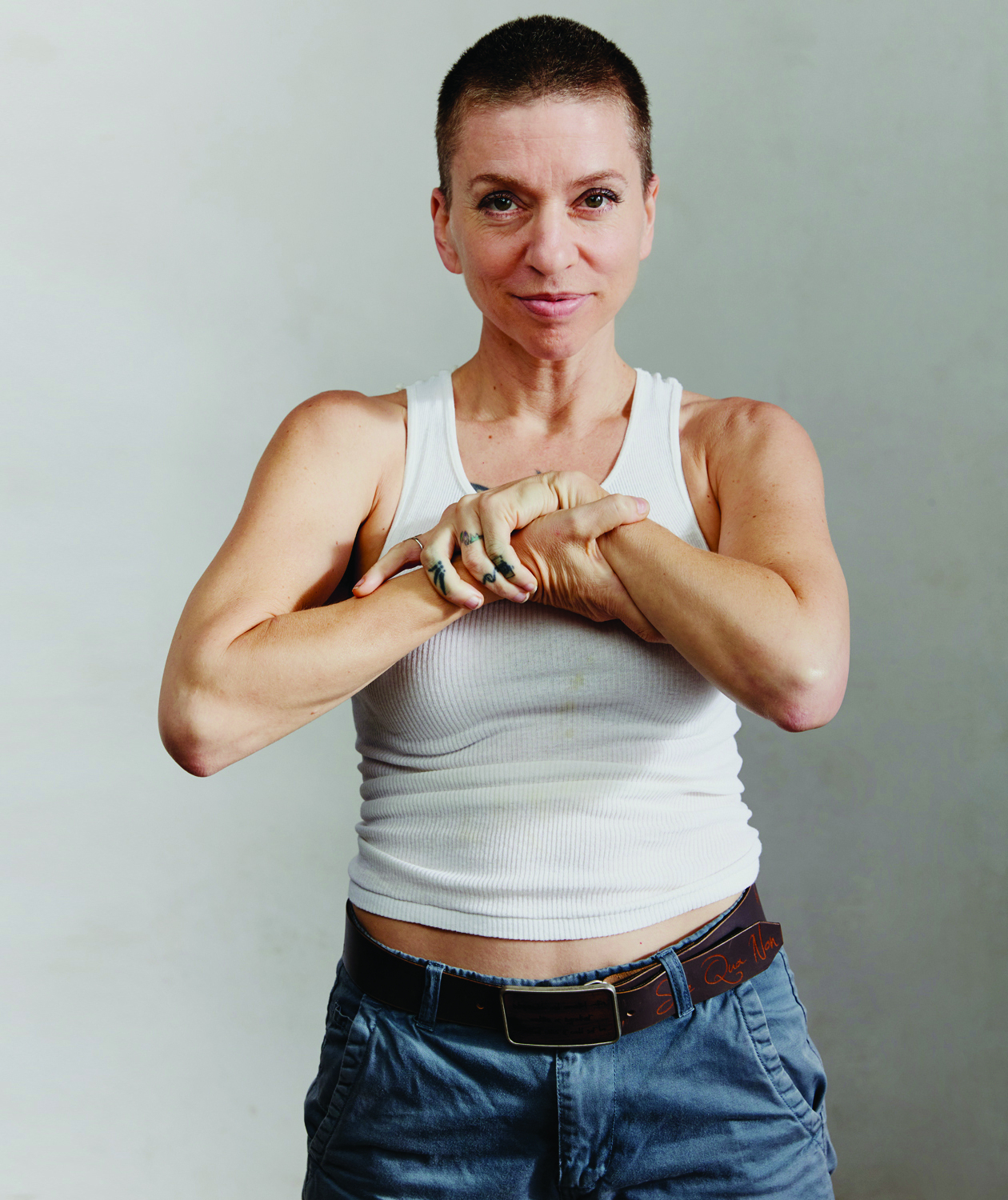 By giving voice to the collective outrage of her listeners, DiFranco uses her music as a form of activism in itself. This is especially true of her earliest material, which often showcased her ability to make every line sound like it should be punctuated by a tiny middle finger instead of a period.
By contrast, the singer's twentieth solo studio album, Revolutionary Love, provides a glimpse of its creator's gentler side. On the title cut, the singer vows, "I will see no stranger, only parts of myself I don't yet know. I'll see right through evil to a wound too scared to show."
DiFranco, a mother of two who entered her second marriage well over a decade ago, explains that the idea of revolutionary love applies equally to clashes of ideology in the world at large and to struggles under one's own roof—especially where marriage is concerned. She admits, however, that her own actions sometimes fall a wee bit afield of immaculate compassion and forgiveness. "I'm hoping if I sing about being smart, someday I will be," she jokes.
Well, maybe she's only half-joking. Over the years, DiFranco has indeed seen some of her lyrics come true after the fact. From her perspective, this is partly an act of manifestation through singing and partly a byproduct of the trancelike state that she enters while writing songs.
"I feel that hanging out with my guitar and letting things come through, putting out the antenna and receiving things, is my form of meditation," she says. "I'm somewhere in a realm beyond my own limited consciousness. I feel somewhat liberated from that linear-time, knowing-only- what-you-know state, and things come through that I don't understand: 'What does that mean that I just wrote?' And then as time goes on, you learn what it means."
Intuition seems to have guided DiFranco in creating the title cut from her 2017 release Binary, which unintentionally touched on the timely topic of gender fluidity. The songwriter claims she wasn't conscious of stepping into the gender debate when she wrote the title song; rather, she had been contemplating the idea that life and consciousness itself are binary in nature. This includes the masculine and feminine polarities. DiFranco, who came out as bisexual in her early 20s, rejects the notion that there's no such thing as gender. However, she sees the male and female principles not as mutually exclusive, but as "a swirl, where black becomes white through grey, and it's mixing, changing, and fluid."
As an LGBTQ icon, DiFranco has found something better than superstardom: She's a hero to millions who will never walk the red carpet or pass beyond the velvet rope.
"People, entities, writers, artists, activists, women, men, and all kinds of different makes and models of people have told me, 'I know I exist because of your songs,'" she says. "And it's like, 'Oh! Yes! Yes! I've done my job today.'"