An art practice for embracing solitude.
Solitude, like a blank canvas, has infinite potential. Shape it with past experiences or mirror the present. Stroke it with angst or with acceptance and connectedness to all. The choices are yours to make.
Loneliness is like mice tiptoeing in the attic. How many unwelcome guests are up there? Will they ever leave? The silence paradoxically fills our head with chaos, and we desperately seek distraction: TV, social media, getting lost in the computer. A false sense of comfort veils the unease brewing below the facade.
Aloneness is a celebration—it's that feeling you get when all the puzzle pieces feel perfectly aligned, when your essence is pulsing in rhythm with everything around you. The noises of the world don't reach you, but you acknowledge them without swaying your mood one way or another. Your inner being feels deeply content and at peace. Aloneness recognizes loneliness, but in this place it just comes and goes, without much thought or attention—a simple passing moment.
Creating art can help reframe our perception of solitude.
SUGGESTED MATERIALS:
Wood or canvas panel
Paint (gouache is my favorite!)
Decorative papers
Personal and royalty-free images
Dried flowers
Water-based sealant, such as Mod Podge, acrylic medium, or PVA glue (Uhu glue stick works well, too!) Brayer (roller)
Squeegee tool
Scissors or Exacto knife
Paint pens
There is no right or wrong way to create a piece of art. The finished product has very little to do with what the process itself will give you. Every movement of the brush, placement of a piece of paper, or mark of the pen is an expression of what you are feeling. The steps are only a framework—follow your own instinct as you work on this piece.
Search for images, words, and pictures that help you make your vision come to life. Magazine cutouts, book pages, or old letters always seem to make great content. If nothing lying around the house inspires you, check out some of the many royalty-free image and photograph databases that can provide you with endless ideas. Unsplash, Pikwizard, and Stockvault are some good options.
When trying to find words that inspire your art piece, decide whether you want the art or the text to take the lead. Sometimes finding the words first inspires the direction you may take with your art piece, as finding words that match your completed art may be a challenge—unless you decide to write your own text.
If you are having trouble finding words that speak to you in magazines, books, letters, or your journal, try Googling the topic of your interest and an array of quotes will almost definitely appear.
The words in this piece are from an illustrated narrative poem, "Only If You Let Them." They amplify the importance of letting yourself feel whatever may come your way without judgment.
Choose your main object: a woman's profile, a house, a flower, a moon, or whatever fits the vibe you're going for. Once your object is cut and ready to place, turn it over.
Take a moment to reflect on what it is about loneliness that feels threatening, and reflect on what you personally may need in order to find a place of aloneness that you celebrate. Maybe a career change? A different relationship? A vacation? A move to a new place? Write your reflections on the back. These thoughts are only for your eyes.
Choose a color scheme: blues, oranges, grays, boho neutrals. Don't overthink it. You will naturally be drawn to the colors that speak to what you are feeling. Look for old wrapping papers, wallpapers, or fabrics for colors that work well together. If possible, go for a walk in nature, where everything always seems blended to perfection.
Sit with your ready-to-use elements and start creating. Let the empty space be enriched by your vision, thoughts, and individual voice. Get lost in doodling and let the mindless repetition be a gentle pause for your being. Let the silent act of creating help you feel connected to all, slowly dissipating any feelings of loneliness.
When feeling lonely, remember to look at what you created. It's an extension of the universe, a moment you took for yourself to feel connected to everything through the present moment.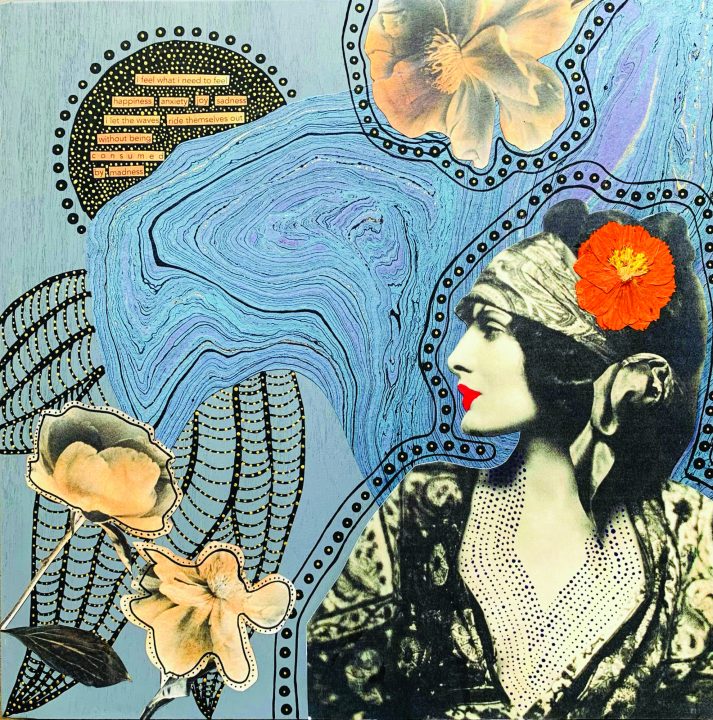 Get started ...
1. Collect Your Materials and Set Your Intention
Assemble your decorative papers and images and cut out the pieces you want to use. Take a moment to set your intention. Write it on the back of one of the pieces. Paint your board your desired background color.
Note: unsplash.com, pikwizard.com, and stockvault.net are great resources for royalty-free images.

2. Collage Basics
Flip trimmed pieces and apply glue/sealant to the back. Use a brayer to smooth flat against the background. Use a small squeegee to remove excess glue, either before or after using the brayer.
3. Doodle
Making repetitive marks with paint pens can put you in a meditative state. Let your mind relax.
4. Finish
Add textures with inks or watered-down paint. When totally dry, apply the glue as a sealant (or if using glue stick, use a matte varnish). Glue on any last elements.
Share your completed collages on Instagram and tag us at @spirithealthmag.