A preview of the Jan/Feb 2018 issue.
Spirituality & Health's Jan/Feb 2018 issue is now available.

FEATURES

Finding Joy with Those Who Don't Think Like You The two of us have been digging in to reconcile the differences between us for 15 years. What are we digging into? The thick, rich, confusing soil of the different ways we think, experience , and understand the world. By Angie McArthur and Dawna Markova

The Tao of Chronic Pain Suffering is optional. Here's how to find the teacher inside. By Beth Darnall, PhD

When Guilt is Good 7 Clues your baggage needs handling. By Victor M. Parachin

3 Best Practices for Future Happiness An Interview with David Desteno "We all want our future self to be happy, so we ask: 'What can I do to relieve this person's suffering?" By Sam Mowe
INNER & OUTER WORLDS

Inner Life: Update your projections; My solo whitewater rafting retreats
Practice: My new diet involves cutting out the violence; Best books of 2017
Enlightened Diet: Foods that douse the flames of inflammation
Healthy Body: Healing neck and shoulder pain; Is your yoga class a Stanley Milgram experiment?
Relationships: Finding abundance in having less; Everything happens for a reason

COLUMNISTS
Roadside Assistance for the Spiritual Traveler: Am I morally bound to chastise meat eaters? By Rabbi Rami Shapiro
Our Walk in the World: Regret By Mark Nepo
The Happiness Track: The life stories we tell for health By Emma Seppala
The Heart of Money: Time to move abroad? By Paul Sutherland
DEPARTMENTS

Poetry: Naomi Shihab Nye

Toolbox: Writing well

Reviews
Tell Me More: Stories About the 12 Hardest Things I'm Learning to Say by Kelly Corrigan
I Know How You Feel: The Joy and Heartbreak of Friendship in Women's Lives By F. Diane Barth
The Healing Self: A Revolutionary New Plan to Supercharge Your Immunity and Stay Well for Life By Deepak Chopra MD and Rudolph E. Tanzi PhD
Happy Together: Using the Science of Positive Psychology to Build Love That Lasts By Suzann Pileggi Pawelski and James Pawelski
Solo: Reflections and Meditations on Monk by Wadada Leo Smith
Komitas: See Songs by Lusine Grigoryan
Wondervilles by Adam Bauer
Jane by Brett Morgen
Human Flow by Ai Weiwei
One of Us by Heidi Ewing and Rachel Grady
The Commons: How to spend a gap year
Five Questions: Flora Bowley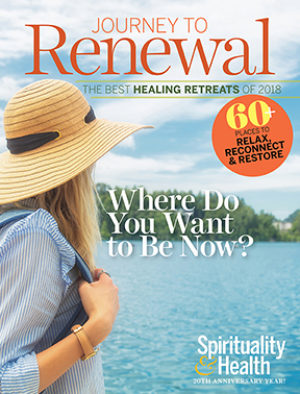 Journey to Renewal

FEATURES

Mountainside Serenity by Mary Bemis
What is Transformational Travel? By Martine Bury
Seaside Retreats by Mary Bemis
Volunteer Vacations by Becca Hensley
Awakening at the Sunrise Suite by Perry Garfinkel
THE ART OF TRAVEL
Transform the Way You Travel by Marth Honey PhD
The Ultimate Adventure by Becca Hensley
Breaking Borders by Kevin Raub