S&H editor Ben Nussbaum spoke with Brooklyn-based artist Erin Robinson about the corporate world, digital art, and her evolution as an illustrator.
You had high-pressure jobs in fashion, right?
Erin: Yeah, I did. I started off in women's wear and then most of my career was in designing children's clothing—newborn, infant, and toddler. And I also worked in television doing costume design.
How long have you been making art full-time?
About four years.
Is it something you were always pointing toward, or did you think you would spend your career in the corporate world?
When I was a little girl, I always said I wanted to be a fashion designer, a children's book illustrator, or a veterinarian. Somehow two of those things I've done. Being me, I didn't think I could make it as an illustrator. I remember a little girl I used to play with, she told me I couldn't sit around and draw all day. That stuck with me for a while ... but clearly changed.
Of course when you're in corporate, when you start moving up the ladder, the less creative it becomes. I just got to the point where I was like, "I think I'm done with this." I took a sabbatical from my job and went and traveled ... just to sort of reset.
That opened up the door to huge change for me. I just wanted to do something bigger than myself, step out of my comfort zone, and it reignited that creative passion in me. I went back to my job, but I only stayed there for a year. But when I went back, I just remember saying to myself that I wanted new opportunities. Then all of a sudden I got laid off, my boyfriend and I broke up, and my apartment sold all at the same time. I didn't know it would come in a package like that! It was scary but sort of a relief.
What happened next?
I went out to Los Angeles and sort of regrouped and started painting and drawing and doing all this stuff again. And my friends kept telling me to share my work. I was really hesitant to do that, especially on social media.
I feel like I come from the land of old school, painting and papers all
over the place. I love doing watercolor and collage and stuff. And my dad was the one who asked me, "Why don't you draw on my iPad," and I turned up my nose at first.
Then it turned into a diary almost, I started drawing all the time on it, and just taught myself. For me it was like trying to find a signature for myself—"What's your style?" I didn't want all my work to look digital. I wanted it to have texture to it, color, to feel tangible. I was inspired as a child by Eric Carle and Ezra Jack Keats. Sort of abstract and shapes and cutouts and colors and saturated, enchanting meaning behind them. So for me it was kind of like telling magical stories. ... That's kind of what it turned into.
And being in Brooklyn and seeing all these beautiful faces of diversity and color and different cultures and hair, that is such a huge inspiration for me.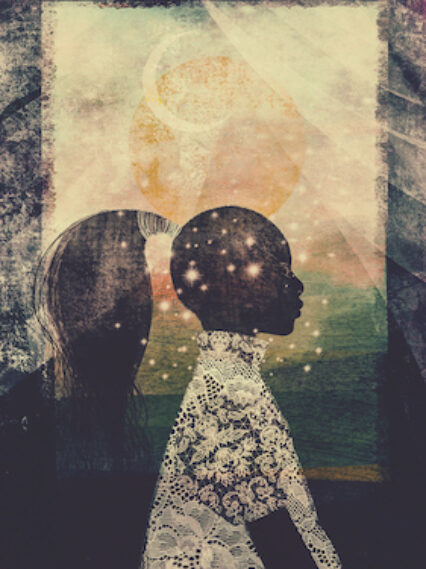 Do you work purely in digital now?
At first I would start on paper and then slowly pull them into digital. Then I started drawing right on the iPad, more so to give me ideas for paint and collage. Then I started printing things out, cutting things up, pasting and painting, sewing on top of stuff, doing all these things. Then I started posting the digital pictures of them. You couldn't tell what was purely digital and what wasn't. And the pictures started selling. And then I got so busy I didn't have time to paint anymore.
Everyone's always asking, "Where's the original?" But there are only a few original pieces. My dad went and found them and got them framed. You need to chat with him!
Do you miss working with paint?
I do. I have an idea for a body of work that I want to create, that I want to paint in collage in large scale. I call it Touch the Sky. When I was a little girl trying to understand what heaven is, or the afterlife ... I remember when I lost my grandfather at 9 and trying to comprehend it all, and thinking that if I got really high in the swing and my toes touched the sky, we would make a connection.
So when I think of Touch the Sky, I think of all these amazing photographs my family has of my ancestors and the stories behind them and the DNA passed down. I wonder about what I got from them that made me who I am today. I really want to take these photographs and turn them into a body of work, to bring these stories to beautiful life.