Here are 7 simple soulful steps you can take every day to bring more light to your heart chakra.
Meditation is hearing your own inner voice, and that voice begins with the energy of your heart chakra. You can awaken to this power within and learn how to listen by starting with awareness of who you are.
Your heart never lies; it always tells you the truth. When you feel happiness, when something brings that big smile, deep laughter, that feeling like you are floating on the clouds, that is your spirit reminding you that you are yourself when you let go. Letting go is telling the universe that you are allowing for the free movement of energy through your heart.
Notice how you feel when you engage in activities that bring you that feeling of peace and joy. Whether you are painting a picture, journaling, walking, or swapping funny stories with a friend, these are all things that lighten the load, that bring you closer to your spiritual connections.
Your heart chakra is an emotional powerhouse, and it is a guide for your inner light. As you choose to engage in activities and follow a path that shines your light, it is like you are turning on the beacon for everything that matches that light in others.
When your heart chakra resonates in the energy frequency of joy, you attract those people and opportunities that reflect that feeling, that emotional charge.
The more you focus and meditate on that feeling—that energy frequency of joy—the easier it is for your heart to remember. Your heart creates memory circuits that open energetic pathways, and these pathways create more experiences in this same resonance.
You do not need to meditate for hours and hours to reach this level of awakening or to create profound manifestations of healing in your life. It only takes one spark to light the way. The intention you place within that spark is what unites to the universal energy of love. It is your own intention in its purest form that creates this magic.
Short, focused meditations of deep breathing for five to 10 minutes a few times each day is all you need to feel your spirit and set this powerful intention. You may also use visualizations during this short session to increase the power, such as imagining healing colors in your chakras or seeing yourself in perfect health.
When you have connected to your spirit through the breath of life, remember to thank yourself for being a spark of love, and forgive yourself for anything which does not build on that love.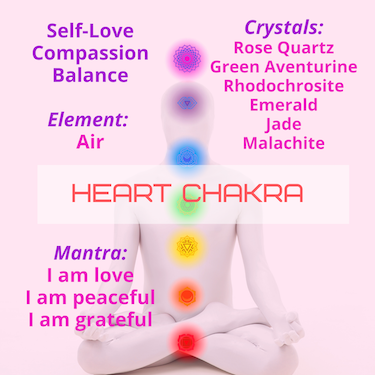 Here are 7 simple soulful steps you can take every day to bring more light to your heart chakra:
Love your soul. Use kind and loving words to your soul. Encourage, inspire, uplift, and remind yourself how beautiful you are.
Listen with intention. Listen to the words of wisdom around you from friends, strangers, and even the sounds of nature. The words and sounds of love abound when you bring it to your awareness.
Send a thank-you card. Every day find things and people to be grateful for. Send a thank-you card to a friend, to yourself, or to the universe. When you are having a bad day, reflect on these messages for encouragement.
Jump for joy. Do not be afraid to show who you are and be excited about what brings you the most passion. Express this true part of yourself and remember there is always a little kid within you ready to play.
Collect passion. Find what brings the most happiness to you and create a collection of that happiness, that passion for life. For example, if you love seashells, create a special display of the shells or a table with artwork that reminds you of this happy place.
Keep creating a new spark. You are never too old to choose a new hobby or pathway in life. Take a class you always wanted to try. Learn something that pushes you past your comfort zone. And, remember, nobody in life is perfect. Let yourself have fun!
Nurture, nurture, nurture. Know that there will be times when you need to rest, to take a moment to reevaluate, and rather than have a goal, simply be in the presence of your own heart.
Spirit is ready to help you ignite the light of your heart chakra. You are love.
---
Pam Barosh is a medium, intuitive healer, author, energy and life coach, and speaker who has dedicated her life to spreading messages of love and hope. With a master's in psychology, Barosh also has training in chakra and crystal healing, and believes that everyone has the power to heal through love energy.