Since its very beginning in 1869 in New York's Hudson River Valley, Mohonk Mountain House has been inviting guests to be inspired by spectacular scenery that creates a sense of spaciousness—inside and out. In the earliest days, Mohonk's founder, Albert Smiley, led guests on walks around a pristine mountain lake surrounded by timeless cliffs and, five generations later, this practice continues. We reached out to Nina Smiley PhD, Director of Mindfulness Programming at Mohonk Mountain House and author of Mindfulness in Nature, about the art of the quiet retreat.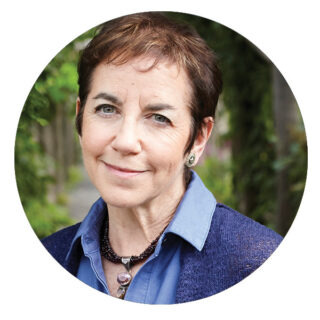 Nina Smiley
How have retreats changed over the years? You've had mindfulness retreats for decades.
With change now constant in today's world, people are increasingly interested in learning life skills for resilience, stress reduction, and well-being. Mindfulness is now recognized in medical literature and in public awareness as a powerful resource for healing. Over years of offering mindfulness programs at Mohonk, we've seen people come to embrace an understanding that mindfulness is meant to be used in real time, in real life. We see a wider interest in exploring meditation, and a recognition that being on vacation is a good time to try something new! Our Spa at Mohonk Mountain House offers mindfulness and meditation classes to overnight guests throughout the week, as well as full weekend programs four times a year. We're thrilled to plant a seed on vacation that guests can take home and nurture in an ongoing practice.
Do people do their practice in a class, or just walking in the woods?
We hope that people will practice in class sessions, walking in the woods, and in the moment-to-moment awareness of being present in "real life." Understanding that mindfulness is simply a way of being fully and gently present in the moment expands the opportunities for practice. You don't have to close your eyes to meditate. You don't have to sit still to meditate. My new book, Mindfulness in Nature, offers thoughts in this arena from philosophers, authors, and naturalists across the centuries, as it also suggests many different ways to be present mindfully in nature. When mindfulness enhances the joy of in being in nature, a sense of grace can touch the moment.
What has the practice done for you, in the evolution of Mohonk?
Mindfulness in nature has been practiced at Mohonk since the earliest days of guests' walking in the woods for re-creation and renewal. Although the word mindfulness wasn't used back then, our inspirational setting has always nurtured the ability to clear the mind and calm the body. In a way, we feel that the world has caught up with us.
We hope our guests will be as active or relaxed as they want to be. We hope they'll take time to nurture body, mind, and spirit in our inspirational setting, while enjoying 80 miles of hiking trails, creative farm-to-table dining, and an acclaimed spa.
The sign at our entrance reads "Slowly and Quietly, Please." We hope visitors will take the opportunity to let go of stress as they drive through the woods to our Victorian castle resort.