Meds & Consciousness
Listening in on a great conversation between Ram Dass and Mirabai Bush
The Conspirators Whispered in the Moonlight - Mary Alayne Thomas
"I know you have thought a lot about balancing pain, medication, and consciousness," I say to Ram Dass. "In fact, you've had so much pain that you are an expert. What should we say?"
"I want to be as conscious as possible as I transition from the body to the soul," Ram Dass says, "but I don't want to suffer too much. I think it's good to withstand the pain and suffering until you can't—and I say that, having experienced a lot of pain. Strong drugs, like morphine, dull consciousness. Morphine is compassionate, but then you may go into your last ceremony asleep. On the other hand, if you're in huge pain, your consciousness is in the pain, so you're not free to be in loving awareness. Usually, it's not a matter of either/or, but of degrees of medicine."
"Good way to think about it," I say.
Ram Dass adds, "It's just a cautionary guideline to create the best balance you can around consciousness and pain. I have also used nonmedical ways to deal with the pain. Pain captures your awareness, but if you move into pure awareness in the midst of it, even for a moment, your relationship with your pain will change. Awareness of pain isn't painful. The pain is in the thought of the pain. If you pay close attention, you'll see that you have thoughts and feelings about the pain—what's causing it, how long it will last, how terrible it is. If you accept and love those thoughts and emotions, it will reduce the pain."
"I have a hard time with pain," I confess, thinking about a recent gum surgery.
"I have neuropathy in my feet, especially at night," says Ram Dass.
"It's really painful, isn't it?"
"Yup, yup, yup."
"And it's related to diabetes, so many people have it."
"I play with it," Ram Dass says. "If I'm having a dark thought, I become aware of the thought and ask myself what I'm doing. My awareness is in my soul, and I bring that awareness to witness the pain in my toes, over and over again, identifying with the awareness, not the pain. The pain is in my mind. I often have pain in more than one place, so I move my awareness from my toes to my bladder, from pain to pain. I begin to say, 'God, I'm a mess.' But all that means is that my body is a mess, and I am doing the work of this incarnation with joy. Oy!"
"It's not so easy, though, to rest in awareness during pain," I point out. "I've learned the most from mindfulness practices, being mindful of parts of the body as a sadhana before the pain arrives."
"Definitely," says Ram Dass. "Start now."
When Ram Dass talked before about loving everything, he included suffering and pain. I ask, "What do you mean when you say, 'I love the pain'?"
"Well, if I stay in the witness, in awareness, which is the soul, and the soul loves everything, then everything belongs. It is all lovable," he tells me.
I wish for him that he is always able to do that.
—Mirabai Bush and Ram Dass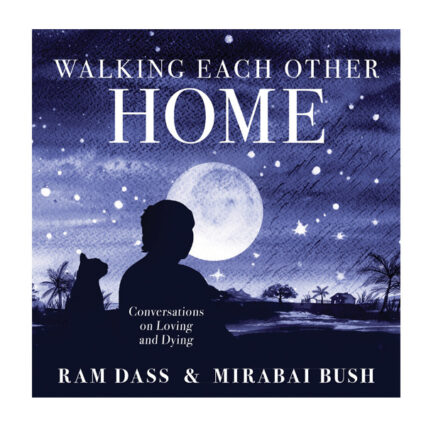 Excerpted from Walking Each Other Home: Conversations on Loving and Dying, by Ram Dass and Mirabai Bush. Copyright © 2018 Love Serve Remember Foundation and Mirabai Bush. Published by Sounds True in September 2018.