An Animal-Friendly Summer Reading List for Kids
Our Animal Chaplain's Favorite Books for Humane Education
Explore Rev. Sarah Bowen's top four books for animal-loving kids, and enjoy a bonus interview with animal advocate Camille Licate.
With 70 percent of homes in the US now containing an animal companion, such as a cat or dog, most children learn about the joys and challenges of living with animals. (As do their parents!) But what about the lives of other animals, such as roosters, rabbits, or bears?
Many schools now incorporate "humane education" by teaching kids about typical species' behavior and animal welfare more broadly. These programs can increase children's empathy and introduce them to intersecting topics, like habitat destruction and climate chaos.
Unsurprisingly, state policies for integrating these approaches into educational institutions vary widely. (Check out this helpful chart from the Animal Welfare Institute.) So, as parents, grandparents, siblings, niblings, or piblings, we can fill gaps, helping a child cultivate compassion for animals and the environment.
Here's my recommended summer reading list and a bonus interview with the human-and-rooster duo who just finished their first picture book.
Summer Reading List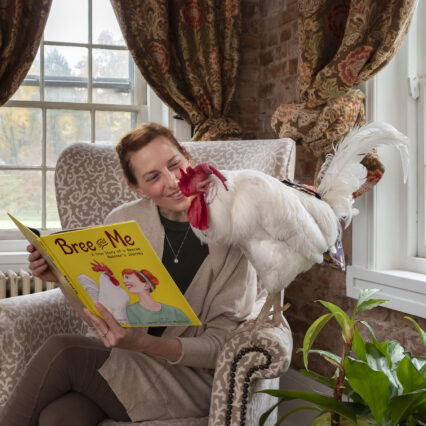 A Rooster's Journey
The first time I met Bree and his human, their story hooked me. Camille Licate fell in love with a chick stranded on New York City's streets. She fostered the little one while seeking placement at an animal sanctuary. Unsuccessful, Licate eventually prioritized her feathered friend over her city life and moved back to her native Ohio. (It's illegal to have a rooster in NYC residences.)

Bree now has over 100,000 followers on Instagram, and Dr. Jane Goodall has recognized Bree and Camille's animal advocacy. Licate currently hosts the PBS show Kids for Positive Change, which helps kids and adults "channel their energy, ideas, and compassion into positive action for the planet!"
I recently caught up with the dynamic duo to discuss their new book and to get Licate's thoughts on animals in children's books. Here's what I learned.
An Interview with Camille Licate
Sarah Bowen: I've observed a lot of variation in how animals appear in books. What do you recommend when choosing books for children?
Camille Licate: I think it's important to choose books for children where animals treat each other fairly and with kindness. Books that portray some animals as "less than" or "superior" to others send the wrong message. So I think it's important to find books showing interspecies connections. For example, books showing different animals helping and supporting each other, saving and protecting one another, or even rescuing humans!
With so many rescue animals in the mainstream now, children's books about rescued farm animals can show kids that a pig or a goat is more than a meal. These books teach kids that a pig or a goat can be part of a human family. Or explain that a pig rolls in mud not because it's a "dirty" or a "messy" pig but because the mud is a cooling sunscreen.
I think it's also vital for animals to be portrayed as they naturally are, not as a story dictates. The story needs to be based on the animal's natural abilities. My pet peeve is when wild or "pet" birds are kept in tiny cages and illustrated to look happy.
What was your favorite book as a kid?
The Lost Mitten by Jannie Ho. I loved how all the animals, in every shape and form, found warmth and comfort together in one little mitten. The animals weren't concerned about being different. They didn't turn any creature away, even when the mitten was bursting. Instead, they welcomed any animal needing refuge from the cold. I cried when the tiny grasshopper stepped into the mitten, and the mitten exploded at the seams.
Did you ever read Orwell's Animal Farm? If so, what do you think?
I did and remembered being very confused at first because I was unaware of the mistreatment of farmed animals. I hadn't been taught about where my food came from—besides the grocery store. I was happy for the animals in the book once they were free and thriving, but I didn't like the way they eventually succumbed to human ways. I remember thinking, "Animals are smarter than that. They love, share, pass no judgment."
But then, years later, I learned how Dr. Jane Goodall observed chimpanzees murder their own kind and thought I should give Animal Farm another read. Ultimately, I like to believe pigs and other farm animals are smarter than humans and, if given the opportunity, would create a harmonious, loving, peaceful, and kinder world.
Why do you think educating kids about Bree's story is important?
I think it's crucial for kids to understand that just like a cat or dog companion, roosters, and by association, all farmed animals want to feel safe, peaceful, and loved. That "chicken" is more than some "thing" that shows up on a dinner plate. Many kids are fascinated that Bree lives in my house and that I see him as part of my family instead of food. Bree's story shows kids that roosters are intelligent, curious, and loving. It shows them that I was willing to uproot my life for Bree and joyfully moved so I could give him the best life possible.
Being from Ohio, I wanted Bree's story also to break the long-taught stereotype that roosters are mean. Kids who have encountered a rooster usually have experienced one with hens and tell me the rooster charged and scared them. I explain a rooster's main job is to protect his flock. I see the lightbulb go on as kids understand the rooster wasn't being mean to them but [was] instead being protective of his community. After this explanation, 100 percent of the time, when I ask, "Was that rooster you met being mean or protective?" the kids immediately then respond, "Protective!"
When I teach our educational program, Wake Up with Bree, I tell kids roosters crow to wake people up in the morning, and Bree crows to wake people up to kindness! Then, I share these interactive messages:

Bree Kind to Yourself (the kids hug themselves)

Bree Kind to Others (the kids smile at a friend or teacher)

Bree Kind to All Animals (the kids blow Bree a kiss)

Bree Kind to the Planet (the kids learn what they can do to make sustainable choices)
What is Kids for Positive Change?
I founded Kids for Positive Change in 2017, starting with classroom programs about endangered species, including the problems these species face and what kids could do to help.
We then expanded to include a humane education "wing" (pun intended!) with Wake Up with Bree, featuring Bree as a guest "beaker." The program includes an interactive website made possible by an Impact Grant from The Pollination Project to reach kids globally.
Kids for Positive Change is now a multimedia education company reaching, teaching, and inspiring kids to take positive action for animals, people, and the planet. It includes a PBS television series that empowers young teen viewers to take positive action to curb climate change.
The series features Bree, me, and a team of kids serving as inspirational guides, traveling to different climates to uncover sustainable solutions to combat the effects of climate change. We highlight international and national expert guests, as well as youth changemakers. Episodes focus on climate change contributors: fossil fuels, plastics, deforestation, food waste, and fast fashion.
For more on Bree, Camille, and the microsanctuary movement, read Roosters Rule: Finding Purpose Through Animal Rescue.