Music Review: Magical Ascension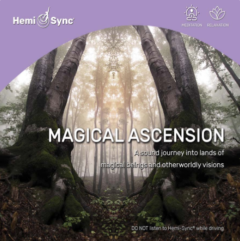 As a child, I loved immersing myself in magical lands through reading. A Wrinkle in Time by Madeleine L'Engle and The Mists of Avalon by Marion Zimmer Bradley were two of my favorite stories. They made the veil between this world and another, more primal and mystical, seem thinner.

Listening to Hemi-Sync's recently released album Magical Ascension with Deborah Martin reminds me of those immersive journeys I went on while reading. The album is divided into multiple distinct compositions, that are joined together with the sound frequency technology that Hemi-Sync is known for.
I was transported onto a new journey with each shift in the sounds. Between journeys, as a kind of baseline for the adventure, is the pulsing rhythm of the binaural beats. I'm familiar with the more meditative experience of this kind of music, but I found that this was something different than I have experienced before - and quite special. I felt my experience of the moment lifted and lightened with each new shift in the music. By the end, rather than feeling like going for a nap, I felt energized and ready to take on the rest of my day.
This album will go in rotation on my playlist, as a reminder that I can access my transcendent and adventurous side any time I desire.
Listen to Magical Ascension for free here!
---
Similar articles with the same tag: