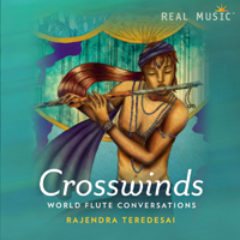 Crosswinds: World Flute Conversations
Rajendra Teredesai
Real Music
Crosswinds is a truly beautiful flute-based album; calming, evocative, and inspiring. The emotionally intelligent flute playing of Rajendra Teredesai resounds wonderfully here on an album that features flutes from around the world, including the bansuri (an Indian bamboo flute), Native American flutes, Chinese, Balinese, and Arabian flutes. Each of the nine extended songs tells a unique story and is grounded in international, earthy instrumentation. Chanting, breathy vocals, and solid rhythmic structures create a divine backdrop for Teredesai to wander upon, float across, and dance with. All of the instruments and arrangements were produced in collaboration between Teredesai and Rasull Soon (aka BlueMonk).
Teredesai creates flute soundtracks that move from meditative to mysterious, mesmerizing to deeply emotional. Themes for the songs evoke sagas from many corners of the world and range from a longing for deep, reflective meditation ("Meditation at Mount Kailash") and the return from battle of a Lebanese soldier ("The Road to Byblos") to calling upon the departed spirits of Native Americans ("Where Spirit Winds Blow"). The haunting, bending bansuri notes of "Jaisalmer Moon" lift the listener out beyond the evening sky, eventually returning home to earth with musical messages gathered from the glowing moon.
From the liner notes: "Beyond the teeming activity of our lives on beloved Earth lies a great eternal Silence. As we pause and listen, the Silence will speak. One of the wondrous voices is through the language of music."
---
Similar articles with the same tag: