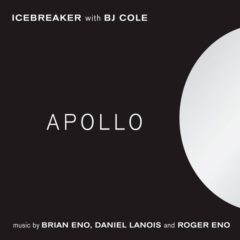 Imagine life without gravity: weightlessly floating with ease. Images of the earliest astronauts bouncing in slow motion on the moon's surface and drifting in space exude this feeling. This is also the effect offered by a lovely reimagining of the Apollo soundtrack by the 12-piece UK ensemble Icebreaker in collaboration with pedal steel guitarist BJ Cole.
Composed and recorded in 1983 by Brian Eno, Roger Eno, and Daniel Lanois, Apollo: Atmospheres and Soundtracks is now considered a classic of ambient and texture-based music. The music was produced to accompany Al Reinert's documentary film about the Apollo space missions, titled For All Mankind. Beginning in 2009, Apollo, as arranged by South Korean composer Woojun Lee, has been performed live to accompany screenings of For All Mankind in Europe.
Apollo has been described by Brian Eno as "zero-gravity country and western." With aptly titled songs like "Drift" and "Weightless," one is transported to a gently swinging hammock beneath a star-filled sky.
Eno was the guest artistic director for the 2010 live performance of Apollo at the Brighton Festival in the UK. In addition to his ambient music, Eno is well known for a variety of audio and visual projects. He was a founding member, in 1971, of the band Roxy Music, collaborating with guitarist Robert Fripp and producing postpunk bands like Devo and Ultravox.
---
Similar articles with the same tag: