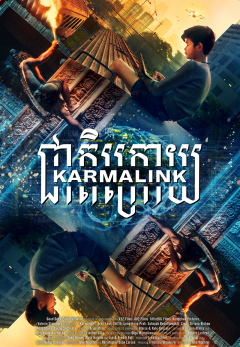 Billed as a "Buddhist sci-fi mystery," Jake Wachtel's film follows two working-class Cambodian kids who, driven by dreams of a missing golden Buddha statue and a temple they've never seen, go off in search of lost treasure. They are convinced that they are seeing glimpses from a past life.
The world they live in is hyper-connected: The wealthy can plug their brains directly into global networks, and invisible controls hover around people's heads, letting them change settings. As we watch these kids on their quest, other stories and timelines begin to intrude, including the tale of the thief who stole the Buddha statue and hid it in the first place.
Also intercutting with these stories is that of a scientist who as a child fled the bombing of Cambodia and then sought to fuse technology with spiritual enlightenment. As we see more and more of his life, we begin to realize that his experiments likely hold the key to our young heroes' journey. Where is all this headed? Is Karmalink a cautionary tale or a hopeful vision of a more enlightened and accessible future? The film seems to have more complex ideas on its mind.
Wachtel has a terrific eye as a filmmaker, and his vision of the future is often beautiful, albeit in a fearsome, dystopian way. He also manages to get remarkable performances from his young cast. Such skills serve the director well in holding our attention, particularly during the film's more enigmatic passages. Karmalink leaves us with more questions than answers, but the disorientation it creates is a sweet, thoughtful one.
---
Similar articles with the same tag: