Book Review: Ritual as Remedy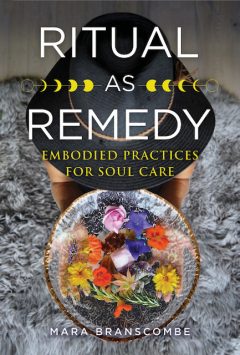 What does it feel like to be a body on this earth, a mind processing this life, and a spiritual being stuck somewhere in the disorienting middle? Ritual as Remedy prods us to reflect on these questions and offers a bounty of tools for digging deeper, freeing the inner mystic within each of us.
Branscombe says "the path of the modern mystic is to create structure, rhythm, and ritual practices that are meaningful to you." Refreshingly non-denominational, this book has no pretense of spiritual lineage and has little cultural appropriation. (Branscombe is an ecumenical soul: a multihyphenate mother, yogi, teacher, ceremonialist, and spiritual coach, among other things, and merges these sightlines well.)
The structure of the book is useful and elegant. The titular rituals are practical and sublime. Some are simple (keep a journal) while others feel original: how to Discover Your Signature Essence (or core self), prompts for Writing a Letter to Spirit (or Creator/ Mother).
Branscombe's teachings embody spiritual maximalism. They are anchored by metaphor and powerful imagery: child, maiden, mother, crone, moon. But too often her expansiveness trumps clarity. She writes, "The moon is the weaver, the mystic, the alchemist, the midwife, the healer, the grandmother, the warrior, the artist, the farmer, and the child all at once." This is asking a lot of the moon!
Herein is the essential challenge: This book, too, wants to contain everything. You will need an abundance of time and effort to unpack it. Or, just zip to the exercises, light a candle, and draw a cleansing breath.
---
Similar articles with the same tag: