Book Review: Root & Ritual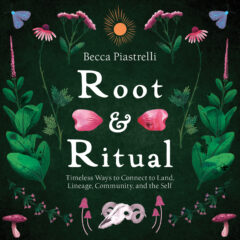 PROFOUND RECONNECTION to the earth, ourselves, our community, our bodies—everything besides our screens and our ids—is overdue. But where do we begin? Root & Ritual by Becca Piastrelli is full of fresh and vigorous ideas, inspiration, and practices for a meaningful start.
Piastrelli is a leader in women's empowerment and a keeper of ancestral wisdom, and she shares her lexicon—ancestor, feminine, spirituality, ritual, and so on—to create common ground. The path forward might involve joining a women's circle, smoke-cleansing, building an altar, nourishing the body, nourishing the soul. The intention: healing chronic loneliness and finding anchor. We are encouraged to make friends; we are given space to listen to our hearts; we are invited to cry.
The practices in this book range from simplistic to moving, with moments of delight throughout. A nagging feeling was the need for more context. Timeless rituals indeed, but whose historical practices are being shared? North American indigenous? A loose association of earth religions? Everyone's ancestors ever? Piastrelli reminds us to check ourselves for cultural appropriation, but there was so little cultural background to her practices they often felt generic. I ached for more cultural history, not just the author's personal history.
Nature does prevail: Root & Ritual is a luminously illustrated guide, not an anthropology text. Perhaps no history lesson is required to light your own candle, research whose indigenous land you've parked yourself on, burn those old, dodgy love letters, harvest calendula. Shed, revise, sing, reclaim, invoke, cry: Our own path to rewilding shall be revealed.
---
Similar articles with the same tag: