Apifera Farm is a healing place for animals and elders. In addition to visits with Harry, seniors can meet geese and goats and even groom the horses, providing the element of touch, the rhythm of repetition, and the curative fresh air of the farm.
Harry the llama does not do anything particularly spectacular. He doesn't perform tricks, nor does he have an exceptionally natural manner of healing or intuition. He does, however, do the one thing those who love him need the most: he shows up for them. "Part of Harry is it's just his presence," the llama's caretaker Katherine Dunn explains.
Several years ago, Katherine began taking her small goat and other animals on healing visits to Cove's Edge, a local elder community in Damariscotta, Maine. When COVID-19 hit and began isolating the members of society who were already profoundly secluded, Katherine and Harry began a weekly mission to bring healing, companionship, and community to those individuals. "I've learned the most important thing to them is that you show up, repeatedly," she remarks. "And one of the things I hear a lot is, 'So when are you coming back?'"
Every visit has brought touching but also tearful moments. One day Katherine was surprised to see that the residents had placed large "I Love Harry" stickers in their windows. Longing for connection and interaction, some residents would put their hands upon the windows as they walked by.
Their visits have evolved into regular "Facetime Friday" calls, where Katherine invites a "mystery guest" into her living room, be it Harry the llama, a goose, a goat, or a pony. "They just really get a kick out of seeing an animal inside of the house," she muses.

Katherine and her husband started Apifera Farm in 2004 to harvest lavender, but they also began adopting animals in need. When the farm relocated to mid-coast Maine in 2016, she knew she wanted it to evolve into a healing place, not just for animals but also for elder people.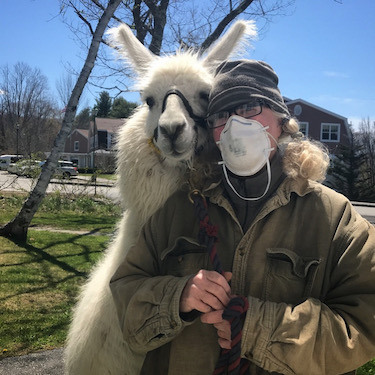 "I've always had a connection with anything old," she says. "Even as a child." In 2017 the farm officially became a nonprofit with the intention of providing healing services to the elderly in their community. Katherine recognizes that the dedicated staff working in senior facilities also benefit from the joy Harry brings. In addition to visits with Harry and FaceTime Friday calls, the farm invites senior individuals to groom their horses, exposing them to the element of touch, the rhythm of repetition, and the curative fresh air of the farm.

"With elders, we don't touch them enough. It's a young world … it probably always will be. I think for a lot of people it's hard to really observe and be present with old people," Katherine maintains. "The animals allow these people to touch them, and the animals touch them back. There is just no judgment. They are totally there in the moment with the person. It also allows people to tell stories, and I think sharing stories is really important for all ages."
The sacred connection between human and animal is essential to Katherine's mission: "I'm a firm believer in nature as the best guide and teacher. Living on a farm, you're just so much more entwined with the circle of life. It's not that death isn't sad, at times, but it's like saying I like the sun but I don't like the moon."
Bridging that connection amongst seniors in her area has brought joy and fulfillment to both Katherine and those she serves. "I wanted to be part of the community in my own way, with something I could do and provide. I just want to give them something to smile about."
To contribute to Katherine and Harry's efforts to serve senior members in their community, please visit the farm here.

What is a Community Champion? Someone who champions the values of our community. We're looking for people who understand that happiness comes through service and who make the world a better place with kindness and humility. Got suggestions? Let us know at [email protected].