Megan Shoop-Volz
Megan Shoop-Volz is a historian and spinner of stories with a BA in English literature. Her analytical mind and insatiable curiosity have made her a lifelong scholar of the mysterious, paranormal, and arcane. She is the cofounder of the Metaphysical Apothecary, a space dedicated to exploring cosmic mysteries and sacred knowledge. Follow her at @metaphysical_apothecary.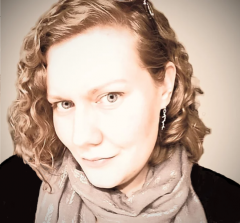 Erotic, invigorating, and beautifying: Try these essential oils for sensuality.…
The Arcane Art of Dendromancy
Depending on your comfort level, you can try these cuddling techniques with a pa…
If your skin needs some love, chances are your internal systems could use a boos…
Explore how green, pink, blue, and purple lights can reduce anxiety, improve moo…
Nourish your sacral chakra with these four orange-hued desserts.
You can have your pumpkin for skin and eat it too with these seasonal skincare r…
Foods rich in tryptophan, omega-3s, magnesium, B vitamins, and potassium are lik…
The thunder moon and the lightning moon that follows it can bring stormy weather…
Try this mini-ritual for midsummer, when nature teaches us to rest and be patien…
Savor the flavors of frothy cherry moon milk while you visualize being bathed in…
A new moon can be a time to plot change, plant seeds, and bathe in darkness.…
The beginning of summer is a time to rejoice in nature's abundance. This ritual …