Grace Ji-Sun Kim
Grace Ji-Sun Kim received her PhD from the University of Toronto and is Professor of Theology at Earlham School of Religion. She is the author or editor of 20 books, most recently, Invisible, Hope in Disarray; Keeping Hope Alive; Reimagining Spirit and Intersectional Theology. Kim is the host of Madang podcast which is hosted by Christian Century.
She is a Series Editor for Palgrave Macmillan Series, "Asian Christianity in the Diaspora" and has served on the American Academy of Religion's Board of Directors. Kim writes for Baptist News Global, Sojourners, and Wabash Center and has published in TIME, The Huffington Post, Christian Century, US Catholic Magazine, and The Nation.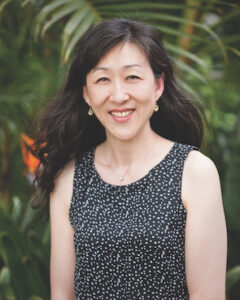 Reading isn't just about gaining new knowledge or relaxing. It can be a spiritua…
Creation stands in desperate need.
Ideas for how to get started journaling and why it's such a powerful tool.…
Raising kids has a way of hammering home insights that are both obvious and alwa…
Engage your whole body in prayer. "Body prayer tries to eliminate the dualistic …
Sabbath is a time to set aside work and embrace rest and recovery. "In the busyn…
"By adding the word holy in front of keywords, such as in the terms Holy God, Ho…
Christians (and non-Christians) can embrace fasting as a way to overcome our dee…