Tired of the same old, same old? These two recipes provide the perfect new twist on holiday leftovers.
Eleanor Ford, food writer, recipe developer, and food stylist, has traveled to 70 countries, seeking out the best food in each. But she has had a special passion for Indonesia since childhood, when she spent a great deal of time there because her architect father designed hotels in Bali and Java. In her new cookbook, Fire Islands: Recipes from Indonesia, Ford takes readers on a culinary journey through the exquisite islands of Indonesia, and shares mouthwatering recipes to make authentic Indonesian food in your own home. For Thanksgiving, she suggests leftover turkey could be used in place of chicken in these delicious recipes.

Rubber Noodles with Chicken

1 tablespoon oil
1 red onion, finely chopped
2 lemongrass sticks, bruised
3 lime leaves
2 salam leaves (optional)
2 chicken breasts, cut to a very small dice, about 1/4 inch (or, swap in leftover turkey)
1 bunch of scallions, chopped
1 tablespoon Chinese cooking wine
1 tablespoon soy sauce
1 tablespoon Worcestershire sauce
1 tablespoon kecap manis (Here is a homemade version of this sweet sauce.)
1 teaspoon dark palm sugar (gula jawa), shaved
3 pak choy, sliced
14 ounces of egg noodles
1 teaspoon sesame oil
3 1/4 cups fresh chicken stock, hot (optional)

Bumbu spice paste
6 garlic cloves, roughly chopped
6 small red Asian shallots, roughly chopped
3/4 inch turmeric, peeled, or 1/2 teaspoon ground turmeric
3/4 inch ginger, peeled
3 candlenuts or 6 blanched almonds
1 teaspoon ground coriander
1/2 teaspoon ground cumin
1/2 teaspoon ground black pepper
1/2 teaspoon salt

To serve
crisp-fried shallots or garlic
kecap manis
chilli sauce
Start by making the bumbu. In a food processor, whizz all the bumbu spice paste ingredients together, adding a little water to help the blades bring everything together.

Prepare all the ingredients for stir-frying. Preheat a wok over a medium heat, add the oil and soften the onion. Add the bumbu, lemongrass, lime leaves and salam leaves and fry until very fragrant. Add the chicken and stir-fry for a couple of minutes.

Add the spring onions, all the sauces and palm sugar and stir-fry until the chicken is cooked through and glazed with the sauce. Remove from the heat, taste for seasoning and set aside.
Bring a pan of water to the boil and blanch the pak choy until the leaves are wilted and the stems tender crisp. Remove with a slotted spoon. Cook the noodles in the same water, making sure they keep some chewiness. Drain and toss with sesame oil to prevent sticking.

Divide the noodles into four bowls. Top with pak choy and the chicken. If using, ladle over the hot broth and bring to the table with crisp-fried shallots or garlic (or both), kecap manis and chilli sauce for everyone to tailor their bowls to their own taste.
Fire Islands: Recipes from Indonesia was published in North America by Apollo Publishers. They are offering a special discount for Spirituality and Health readers. Enter Apollo20 for 20% off.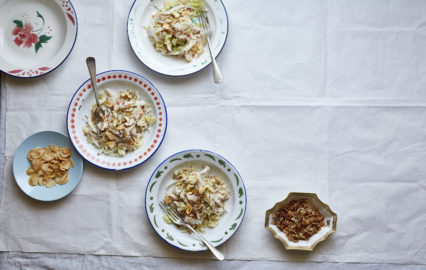 Shredded Chicken Salad with Lemongrass and Lime

Serves 4

Poached chicken (or use leftover turkey)
3/4 inch ginger, smashed
3 chicken breasts, skin on

Dressing
4 lemongrass sticks, tender centers, finely chopped
1 teaspoon shrimp paste, toasted
4 teaspoons dark palm sugar (gula jawa), shaved
1 teaspoon salt
generous 1/2 cup coconut milk
1/3 cup lime juice (about 3 limes)
Salad
3 1/2 ounces fresh coconut, grated
5 1/2 ounces beansprouts
½ Chinese napa cabbage, finely shredded
3 lime leaves, deveined and finely shredded
2 red bird's eye chilies, finely chopped
4 tablespoons crisp-fried shallots
2 tablespoons crisp-fried garlic
[If poaching chicken instead of using leftover turkey, here's how: In a large pan, bring to the boil 4 cups water with the slice of smashed ginger and a good pinch of salt. Add the chicken breasts and simmer over a medium heat for 5 minutes. Remove from the heat and leave to cool in the liquid for up to an hour.]
Make the dressing by mixing the lemongrass, shrimp paste, sugar and salt. Whisk in the coconut milk and lime juice and taste for a balance of flavors.
Once the chicken is cool, discard the skin and shred the flesh into long strips. [If using turkey, shred into strips.] Toss with the salad ingredients and dressing.