"Apifera Farm is not so much a place as it is my intention to the world," says Katherine Dunn, an artist who has been featured in S&H and a farmer who is now devoted to incorporating human seniors into her farm of misfit animals. With Apifera and her artwork, Dunn is showing what a person with a passion can do. She is being that kind of change S&H seeks to celebrate with our first Be the Change Award.
At the end of a recent visit, when residents from a nearby assisted living facility departed after interacting with the animals (and receiving llama kisses), Dunn reflected, "This was such a nice visit. I knew we picked the right place." She speaks of having "little epiphanies" on a regular basis these days, now that Apifera Farm has been in Maine for about two years.
The farm began on the other side of the country, in Oregon, 14 years ago. "It's like I've come full circle," she says, "but also reached another leaping-off point for Apifera Farm," which has become a 501(c)(3) nonprofit. The mission has always been to provide a safe haven for elder/special needs creatures, but now they bring the animals together with elder/special needs people for mutual healing.
The Beginnings
For as long as she can remember, Dunn has been caring for animals. Her dream of actually living on a farm materialized at age 38 when she emerged from her career in advertising to be a freelance illustrator. The feeling of being "a caged bird" in corporations evaporated. Her heart-led path soon included painting, finding galleries, blogging, and meeting the neighbor who would become her husband. A year later they bought a farm. Then she took in a donkey. Then she took in a 15-year-old goat. Area veterinarians got to know her. "We have an old pony that was left to die—can you take her?" And so it went, for a dozen years.
Dunn realized that she likes taking on animals that might not have long to live, and just letting them be themselves while she cares for them. She has never considered her work to be a "rescue." Typically, a rescue would require a license, then taking in animals, rehabilitating them, and rehoming them. "I have always taken animals on and they stay with me forever."
She says that a lot of times you don't know why animals were neglected. "There's usually a different story" from what shows on social media streams. So she created a place to remind herself—and to show to the world—that humans are good, and are worth connecting with. She thought it would be neat to put old animals together with old people, so she and her husband started an annual event in Oregon.
Apifera Farm
Apifera Farm has been taking in elder/special needs creatures as a labor of love and passion since the farm began in 2004, and it has been a nonprofit since 2016. As of this writing, there are about 50 resident Apiferians, including birds, cats, chickens, dogs, donkeys, goats, a horse, a llama, pigs, a rabbit, and sheep. For a complete description, go to apiferafarm.blogspot.com.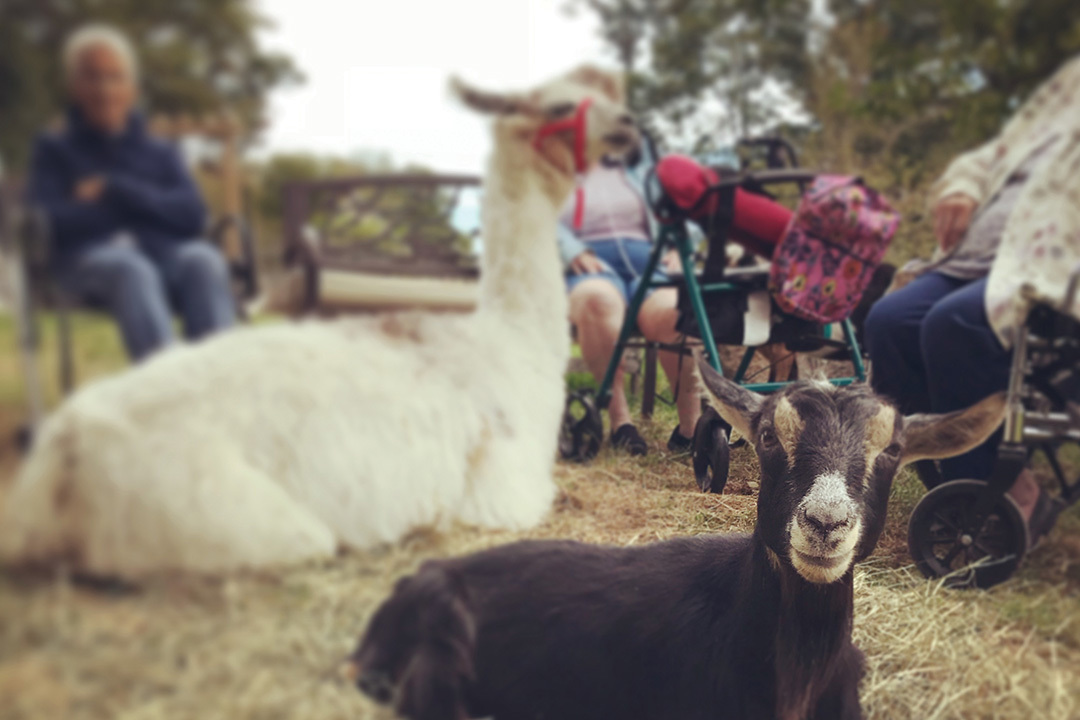 Else, a crippled elder goat brought home after a state neglect case.
Moving to Maine
When the couple decided to move to Maine, it came as a shock to their well-established community out west. The departure was traumatic: getting the animals into their trailer and journeying to a new farm they bought online, sight unseen. But it symbolized the courage it takes to follow your heart and move forward with your own flow.
The new location in Maine proved less rural and more sociable in terms of being accessible to the nearby villages and residents. As they got established, they pondered whether Apifera was now more about animals or people. "When you live on a farm you begin to see things in a different, all-connected way," she says. And her new farm offered new kinds of connections. She intends to keep evolving with Mother Earth, going forward in her work with animals, people, art, writing, and honestly showing her heart. "To go forth each day, with the question: What can I do today that helps?"
Just before an electrical storm cracked and rattled the farm, she took the unusual step of gathering the small goats, sheep, and pigs into the barn. She sat with the pigs until the lightning passed because it frightened them. "I took an hour out of my day to help them, make it better for them, sitting with them. I think that's my intention, to be there for them."
Some of the animals take a shine to visiting elder people; some just want to nap. One recent visitor said the goats were friendly and "they seem to really like us!" which made Dunn feel great. Maybe her guests have never touched a llama before and the opportunity makes them smile. "Giving people a smile would really make their day." She says she definitely knows this is where she's meant to be right now, with the work that she is doing. "Some people find their path early on. I had to wait until I was about 38 to get there."
—Meggen Watt Petersen
What you can do
If you have 10 minutes:
Contemplate the leap in life that would make your own heart sing.
If you have $35:
Contribute a week's worth of hay for the donkeys.
If you have an hour:
Visit your elderly next-door neighbor (with or without your pet).
If you have a pulse:
Use it to do the wonderful things you dream of doing.