Do You Know the Right Price for Holiday Gifts Marketing?
The Goldilocks Principle and Holiday Gift Marketing
What is the just-right price for a holiday gift for a friend? If you spend too much and overdo it, perhaps you put your friend in an embarrassing situation—uncomfortable they can't reciprocate. If you spend too little, you fear you will look cheap.
The same question applies to gift-guide advertisers. If your advertised price is too expensive, it won't sell; too inexpensive, and you can't afford to advertise it, as the revenue-profit from your successful ad won't cover the ad-cost.
Good intel for Spirituality & Health advertisers: The third-highest category on wish lists belongs to books and inspirational media, desired by 39%, following only gift cards (59%), and clothing and accessories (52%). Personal care or beauty items (think: natural lotions, bath, and CBD-infused products) come in as highly desirable as well (21%).
When Goldilocks Gives Gifts
It's no wonder books, media, and personal care products are so popular, since reports tell us that gifts for friends should be in the $15 to $25 dollar range, while higher for family.
A Rich and Happy Market

The numbers above are national averages, while the Spirituality & Health market is far from average—much better educated and more affluent. In the last three years, the S&H Holiday Gift Guide has advertised products ranging in price from $10.95 to $70 to averaging $31. We recommend targeting the high end of the range for pricing, and, in appropriate cases, bundling multiple books or products together to reach the Goldilocks "just right" price point.
Our readers are leaders. They are looked up to by their friends, family, colleagues, and clients as experts on healthy and happy living. So their choices of holiday gifts are especially important for our advertisers. When they buy and give your book or bath sampler, or CBD lotion or sampler of tea or herbs, it's more than a sale. It's an endorsement of the most valuable kind. Our readers put their money where their mouth is.
One thing is for sure: More and more gifts are being purchased online, with online gift shopping having grown 13% in 2019 and hand-over-fist for a decade: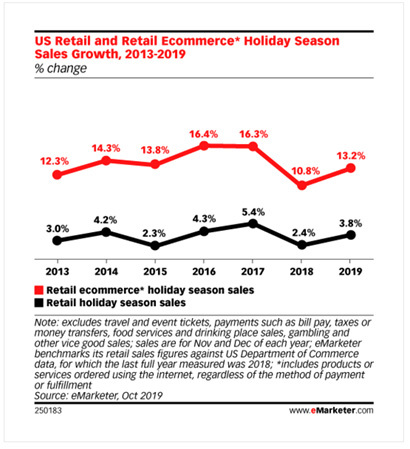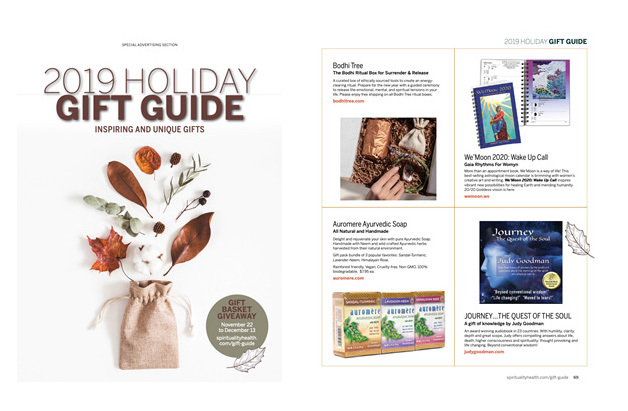 Contact your sales person for details and a proposal:
Ann Reed: [email protected]
Tabatha Reed: [email protected]
Peter Lymbertos: [email protected]