Thank You Advertisers; Especially 14 Hybrid Advertisers
When Does 1 + 1 = More Than Two?
When You Use Hybrid Advertising
We take this occasion, the publishing of our September-October 2020 issue, to thank all our advertisers and to point out why hybrid-advertising works best.
Hybrid advertising is the combination of multiple "media forms" to surround your prospective customers with messaging. Using both print and digital media from one brand, like Spirituality & Health, means your advertising reaches customers and influencers repeatedly in a short period of time.
The most avid readers of Spirituality & Health, and your best customers, don't wait 2 months between issues to seek more inspiration, guidance, and life solutions. They visit the web site, subscribe to our email newsletters, listen to our podcasts, and follow us on social media. The very best high volume customers for you, and for us, are the ones who utilize the most media.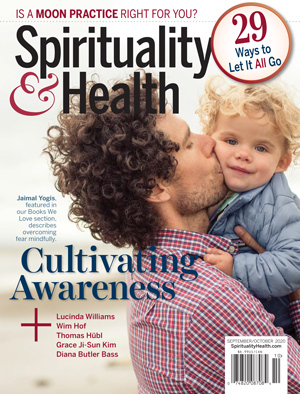 Print advertising is important for building brand recognition and trust that is so valuable to advertising. But when advertisers use digital in combination with print they are best able to turn trust into transactions.
Thank you again advertisers, we can't do it without you.
Print and Digital – Hybrid Advertisers
Atlantic University
Balboa Press
Celebrant Foundation & Institute
Compass Rose
CreateWriteNow
Mindfulness Coaching School
Nine Gates Mystery School
Ojaya
Readings With Michelle, LLC™
Sounds True
The Center for Peaceful Transitions
youtheory
Serenity Association
Quicksilver Scientific
Digital
Bala Veda
Counterpoint Films
Derfla Publishing
Derma E
Earlham School of Religion
InterVarsity Press
Olivia Benson
Pam Barosh
Penguin Random House
Self Realization Fellowship
Shambhala Publications
Sura Flow
The Four Winds Society
Tyndale House
Vedika Global
Yoqi
Patricia Bragg Books
Flax4Life
Macmillan Publishers
United Palace of Spiritual Arts
Internal Journeys
Authentic Presence
Happy Campers Gluten Free
Print

Ben Martin (Celebrant)
The Center at Mariandale
Dance of the Deer Foundation
Elaine Voci Life Coaching
Enlightened Ceremonies
FlatIron Books
Inner Traditions
Jane Hughes Gignoux (Celebrant)
Llewellyn Worldwide
Marlene Rancourt
Melissa Lilly (Celebrant)
The New School of Positive Psychology
Outskirts Press
Patricia Bragg Books
Patricia Eagle (Celebrant)
Power Places Tours
Primal Spirit Foods
Renewed Creative LLC
Sandy Williams
Serenity Mountain Foods
Sewall House
​​Advertisers, your success is our goal. Contact us for more information or a proposal.

​​Thankfully,
​Ann Reed: [email protected]Tabatha Reed: [email protected]Peter Lymbertos: [email protected]