You Just Received More Time; What Will You Do With It?
Two, Two, Two More Weeks
DoubleMint gum uses twins to promote "double the pleasure" of their gum. This week we have double the good news. President Biden was able to announce an agreement to further increase production of the Johnson & Johnson vaccine to get every willing adult a shot by the end of May. And our own CEO Mark Harris was able to negotiate a later printing and distribution date starting with our May-June issue and for the balance of 2021; giving you an extra time to assemble your budget and reserve your sampling partner spot for the Inflammation Sampler, or plan your promotions for the fast-opening retreat travel market this spring and summer.
Why Sampling?
Convincing new customers to try a new product is the main challenge of new product marketers the world over. Potential customers believe they have been living their life comfortably without your product. But you developed it to solve their problems or serve their needs. How will you get them to try it and buy it? According to Hofstede, some humans try to reduce anxiety by minimizing uncertainty. This supports the effectiveness of product sampling—by giving the consumer a chance to use the product, we decrease the customer's uncertainty and therefore the anxiety about their purchase decision.
"The co-op box concept, which allows candy bars to be marketed with skin lotions, for example, is expected to make direct mail sampling more attractive because it allows multiple manufacturers to share in the marketing and postage costs of the program."
Our "Fighting Inflammation" co-op sampling box is your answer for immediate new customer gains, and influencer adoption. Categories are exclusive, so contact us immediately.
Final deadline is March 18th.
Tap the Pent-up Demand for Retreat Travel; The Race to Reopen
In a normal year, more than a third of the Spirituality & Health market would travel to a spa or retreat or conference. Almost half attend training, 31 percent visit a spa, more than a quarter attend a conference, and another quarter a retreat. Now with re-openings following covid restrictions around us, or coming very soon, you can expect that all that urge to travel will be packed into the balance of the year. We suggest you use the extra two weeks with us to map your marketing now.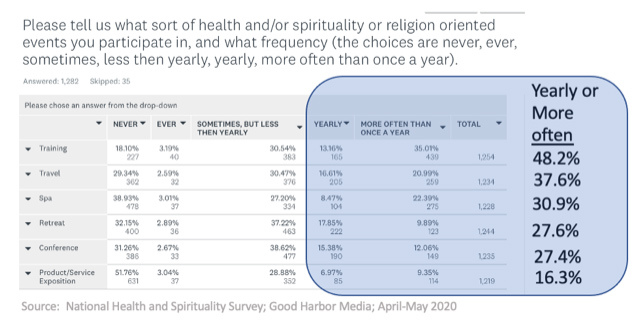 Like the old saying that "it's the early bird that gets the worms," getting your re-opening marketing campaign out there is critical, as your former customers won't visit you if they book with a competitor first.
Help us help you by contacting us:
Ann Reed: [email protected]
Tabatha Reed: [email protected]
Peter Lymbertos: [email protected]