6 Ways S&H Can Help You Sell Books
Is It Really a Good Time to Sell Fat Books?
Will the stay-at-home situation caused by the virus pandemic help or hurt book sales? And how can booksellers and authors find success? Two weeks ago, we wrote about how word-of-mouth—and online viral word-of-mouth—makes book sales happen.
Now, with people spending more time at home, more time is spent reading. So now is the time to think about how Spirituality & Health can help you sell your books.

"The book market has historically performed well during times of economic downturn, and our first six weeks have shown us there is unlikely to be a catastrophic cliff in demand for books," says NPD industry analyst Kristen McLean.

Adds Margo Baldwin, founder of Vermont-based independent publisher Chelsea Green: "Sales are up 15 percent over last year, today."

And "fat ones are selling more than thin ones," says Barnes & Noble CEO James Daunt. "Those books that everybody is supposed to have read, but perhaps hasn't."
Publishers Weekly Editorial Director Jim Milliot says "The go-to thing right now is... virtual or online tours. That seems to be working fairly well. … They actually get a fair amount and sometimes more viewers and people who would actually show up in the stores."
As reported in a recent Los Angeles Times story: "With stores closed and thousands of booksellers unemployed, who might step up to serve increasing demand? Online retailers are reporting a surge in demand for print books. The ABA's own online bookselling sites clocked a 250% increase in traffic; and bookshop.org, which just launched in February and partners with indies and media, reported a 400% increase in sales, which put $100,000 back into bookstores' bank accounts."
Books are about ideas. Ideas spread like viruses. They spread from mouth to mouth and finger (on the keyboard) to thumb (on the smart phone). They spread fastest when they find a home with active people who communicate with many other people, and professionals and amateurs in health and spiritual leadership. That is the market Spirituality & Health serves—from traditional health professionals to yoga teachers to counseling professionals, our readers are leaders.
Six ways S&H can help you sell books:
Print advertising in the September-October issue, closing July 10.

Online display ads can start on a few days' notice.

Sponsored content articles for book-excerpts or author interviews.

Limited supply of email sponsorships, with display ads for high-immediate impact.

Native (text) advertising units in email newsletters.

Sponsorship a virtual book launch event;

we bundle the marketing for attendees, with the hosting of the event Facebook Live and bring your authors into the homes or our readers.
September/October issue
Special focus: Books We Love editorial section
Space Reservation: July 10 Materials Due: July 17

November/December issue
Special focus: Holiday Gift Guide (including CBD Gift Guide) and Encore Careers editorial section
Space Reservation: Sept. 11 Materials Due: Sept. 18

January/February 2021 issue
Special focus: Retreat Guide editorial section
Space Reservation: Nov. 6 Materials Due: Nov. 13
Where's Kevin?
And now for our occasional Kevin the puppy update: Living as he does in a happy and healthy and spiritually centered household, Kevin has doubled his weight. His spirited, occasional barking has only disrupted a few important conversations with advertisers. You know who you are, and we thank you for your patience. Here's a picture from Kevin's first camping trip!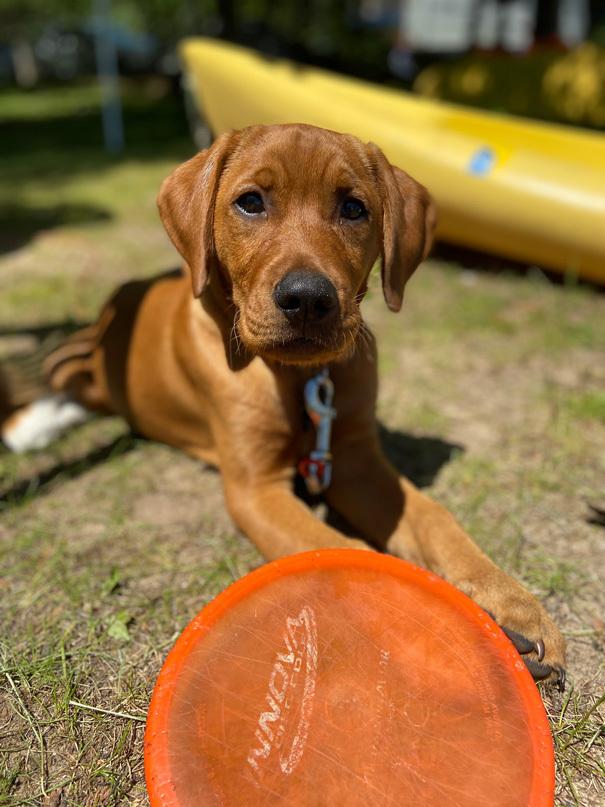 Meanwhile, we send our best wishes for a healthy and spiritual summer full of reading and of happiness. Stay safe and contact your sales person when we can be of assistance.

Ann Reed: [email protected]
Tabetha Reed: [email protected]
Peter Lymbertos: [email protected]