Find Your Calling Because YOLO (we had to look it up)
Did Buddha Really Say YOLO? (We Had To Look It Up)
There is nothing like a little validation from The New York Times! Last week we announced our revamped and reimagined "Find Your Calling" special editorial and marketing program, building on our successful "Encore Careers" section.
This week, NY Times published "Welcome to the YOLO Economy" describing how the pandemic has inspired people who "are abandoning cushy and stable jobs to start a new business, turn a side hustle into a full-time gig or finally work on that screenplay." After all, You Only Live Once. We now know that YOLO is "an acronym popularized by the rapper Drake a decade ago and deployed by cheerful risk-takers ever since."
This is no surprise to our loyal Spirituality & Health readers, our market has been YOLO focused for years. Our latest research says that 86% of our market had made a career change in their life. Many are doing it now: 54% say they are now considering or have considered a career change in the last 12 months!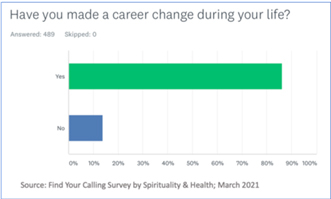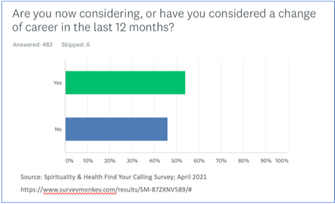 Many American's consider a career caring for people in healthcare to be a "calling" people would consider as a fulfilling alternative to a career in business. That is why fully 25% of Spirituality & Health audience are "traditional trained healthcare professionals," along with 18% who are fitness instructors or mentors, and 9% who are Spa or Wellness owners or workers. However, the pandemic-induced stresses in healthcare over the past year has led even these angels of caring and healing to consider a career change. The Washington Post reported that almost 1/3 of healthcare workers "have considered no longer working in healthcare."
NY Times reporter Kevin Roose writes, "One executive at a major tech company, who spoke on the condition of anonymity because she was not authorized to talk to the media, said she and her husband had both been discussing quitting their jobs in recent weeks. The pandemic, she said, had taught them that they'd been playing it too safe with their life choices, and missing out on valuable family time. The executive then sent me a quote from the Buddha about impermanence, and the value of realizing that nothing lasts forever. Or, to put it in slightly earthier terms: YOLO."
Call or email us to schedule your career education recruitment advertising because YOLO! Buddha also said: "do not delay, lest you later regret it."
Ann Reed: [email protected]
Tabetha Reed: [email protected]
Peter Lymbertos: [email protected]
For the results of our "Find Your Calling" survey visit: https://www.surveymonkey.com/results/SM-87ZXNV589/#
For Spirituality & Health audience results of our Health, Spirituality & Wellness Survey 2020: https://www.surveymonkey.com/results/SM-WN5QQGCL9/