Content Marketing Builds Trust in a Low Trust World
Content Marketing has evolved and flourished in the digital age as three parallel trends took over. Digital media gave users so much control that reaching them with advertising became harder and harder. Users actively blocked intrusive ads they didn't trust on web sites, and then began to pay for ad-free services. At the same time, first Yahoo and Excite, then Google and Bing made it easier and easier to use the internet to seek information, answer questions, or shop. Search engines thrive on content. As social media took over the attention of so many consumers, marketers found that providing "sharable" content was an important way to market their ideas, their products, or their services.
Today, the most valuable consumers—the influential ones trusted by their friends and colleagues—are the hardest to reach. They are the most pro-active about controlling their own media consumption from voices they trust. They are less likely to get ideas on social media they don't trust, and more likely to promote their own ideas there. These health and wellness and happiness leaders are big consumers of content, but careful where they spend their time and attention. Trusted media is where they get the knowledge that makes them respected by their friends and family making them influential.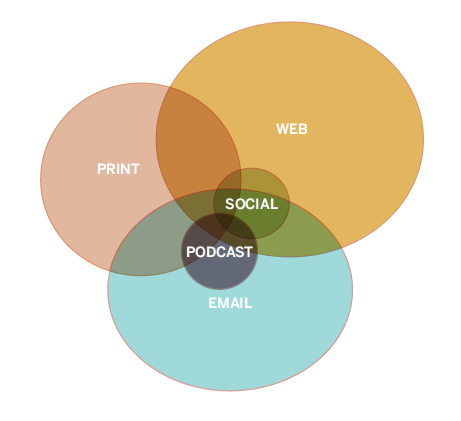 Spirituality & Health is one of those trusted media bringing them new ideas, new ways of thinking, and deeply considered life enhancement research and writing.
Marketers of all categories benefit when they build content marketing into their plans, to help their potential consumers understand the need for their product or service, to seed the word-of-mouth that drives viral success, and to support the final purchase decision when a potential customer asks a knowledgeable friend about their opinion on this retreat-vacation idea or that CBD infusion.
Spirituality & Health makes Content Marketing easy.
Sponsored content posts of your approved content on our website makes it findable and trusted when Google answers a question for your potential customers.
Native text ads on email fits your message into the browsing pattern where our readers are seeing advice and inspiration.
Podcasts can include "host read" messages, or even interviews with your experts.
Sponsored landing pages bring together multiple evergreen-authoritative articles from Spirituality & Health on your subject, along with your messages and possibly your sponsored content posts. A sponsored landing page may include a free-sponsored-download that requires a shared email registration for lead-generation.
eBlasts to our email list of your messages get you in the inboxes of our readers, coming from a trusted content provider.
Contact your trusted salesperson for a content marketing proposal.
Ann Reed 231-218-2157 [email protected]
Tabetha Reed 231-492-4116 [email protected]
Peter Lymbertos: 818-624-6254 [email protected]
P.S. here is more useful Content Marketing content J
"2021 B2B Content Marketing: What Now?"
https://contentmarketinginstitute.com/2020/09/b2b-industry-benchmarks-budgets-trends-research/
"Education as a Marketing Strategy: 8 Brands Doing Online Classes and More"
https://contentmarketinginstitute.com/2017/12/education-marketing-strategy/
"12 Content Marketing Objectives to Win"
https://bluesteelesolutions.com/content-marketing-objectives/
"Content Marketing Hub; A Free Library of Content Resources"